We're an affiliate
We hope you love the products featured in our projects! Just so you know, we may collect a share of sales or other compensation from the links on this page. Thank you if you use our links, we really appreciate it!
I'm always looking for ways to make my home smarter and lead a more efficient life. I dreamt up this LED notification bar project after wondering how I can make use of a spare LED strip.
It's a really simple way to get automated notifications without breaking the bank. Plus, it's fun to play around with too. Want to know how to make your own? Keep reading!
My main objective is to create automated notifications using an LED strip and LED controller. This will be used to indicate things like time-based reminders, weather reports, when someone is at the door and if indoor air quality changes.
When I am working from home, I walk Mollie our Labrador at lunchtime. I set reminders on my phone, but sometimes I get caught up in work or stuck on a call and I easily forget. So, I decided that I would use the LED notification bar to remind me 10 minutes before it is time to walk Mollie.
I want an LED notification bar to indicate when it's going to rain nearby. This reminds me to grab a jacket or change clothes before walking Mollie. We also have outdoor furniture and I don't want to leave things out in the rain.
I want an LED notification car to flash red when motion is detected on my Arlo doorbell camera. This would suggest that someone is at the door and I need to answer it.
Indoor Air Quality Status
I recently automated my home's ventilation system. Airthings sensors measure TVOC levels inside my home and initiate my ventilation system's fan speeds for a set duration. I want an LED notification bar to notify me if TVOC exceeds a specific level. This would indicate that the indoor air quality has changed and I need to take action.
I'm going to use a combination of three LED strip products and the Smart Life / Tuya app to automate my LED notification bar.
I re-used a spare LED RGB light strip that was 1M in length. But any 5050 LED RGB light strip will work in this project. If you don't already have a LED RGB light strip, I recommend ordering one with a Smart Life / Tuya LED controller included such as the Maxonar offering.
I purchased a Smart Life / Tuya compatible LED controller. This device will enable me to automate my LED light strip. It has a 4 pin RGB interface for the LED strip and the other end connects to a 12V power supply.
I also found a Smart Life / Tuya USB LED controller but you need to make sure you have a 5V LED light strip to use this USB version.
I re-used a spare LED strip channel from my recent LED garage parking assistant project.  The white cover helps diffuse the LEDs and looks much nicer compared to just an LED strip. Alternatively, you can use a silicone LED channel tube which will have a similar effect.
The installation process consists of adding the LED light strip & Wi-Fi LED controller to your network within the Smart Life app and assembling the LED strip channel.
The first step is to download the Smart Life / Tuya app on your iOS or Android device.
Pairing LED Strip & Wi-Fi LED Controller
The second step is to connect the LED strip to the Wi-Fi LED controller and power.
After powering on your Wi-Fi LED controller, you must add it as a new device. From the Smart Life app home screen, press the circular + icon > Add device > Lighting and scroll down to select Strip Lights (Wi-Fi).
Select Wi-Fi network (ensure your network is set to 2.4Ghz only) and enter the password.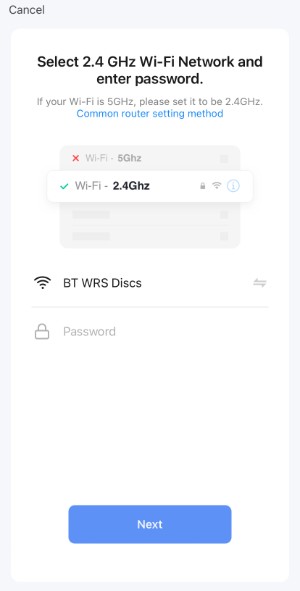 Confirm the LED indicator is blinking rapidly and add a new device.
Top Tip If you have a weak Wi-Fi signal in your home, consider BT Whole Home Discs to extend your network's range.
Check your LED strip is working for example by changing the colour to blue.
Assembling LED Strip Channel
The last step is to cut your LED light strip to size (1M). To fit inside an LED strip channel, simply remove the strip's adhesive backing and place it inside the channel.
Next, insert the white cover in the channel's slots on either side and slide across until the cover is in place.
Finally, re-connect the LED strip to the 4 pin RGB interface on your Smart Life LED controller. Then re-connect the controller to a 12V power supply.
You can now start to automate your LED notification bar. You should use Smart Life scenes & IFTTT to trigger LED light strip automated notifications.
Smart Life Scenes Automation
I created two Smart Life scenes in the automation menu to achieve my walk reminder and rain warning objectives. 
From the Smart Life home screen, tap Scenes followed by Automation and press the circular + icon. The scenes work on an IF & THEN basis.
For my walk reminder, I set the IF conditions to every day at 11:50 AM and the media cabinet fans plug being turned on (only on when I am working in my office), THEN switch on my LED notification bar, set to Scene 4 (flashing rainbow colours), delay for 10 seconds and switch off.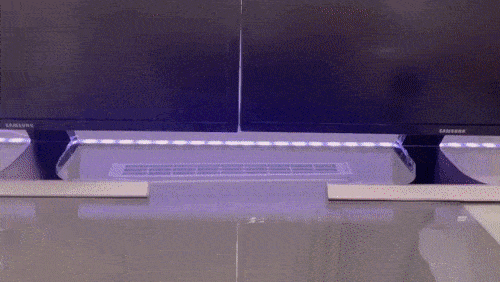 Walk Reminder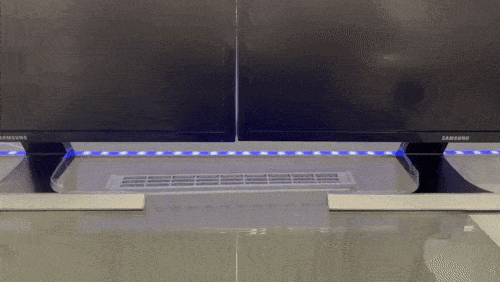 Rain Warning
Smart Life Scenes Tap-to-Run & IFTTT
In order to combine an IFTTT applet with a Smart Life device, you must create a Smart Life Tap-to-Run scene. They work on the same IF & THEN basis as Smart Life's automation scenes.
I covered creating the Arlo Alert IFTTT applet and Smart Life scene in this article.
Arlo Alert
Indoor Air Quality Status
Although this LED notification bar was created for fun, it has a lot of potential for use in smart homes and other environments too. It's easy to imagine all sorts of situations where automated LED notifications would be helpful, from notifying you when it's time to take your medication to remind you when to drink more water.
I'm excited to see how this project develops and what new applications for automated LED notifications are discovered. If you have any ideas about possible uses for this technology, please leave a comment below. I'd love to hear your thoughts!