We're an affiliate
We hope you love the products featured in our reviews! Just so you know, we may collect a share of sales or other compensation from the links on this page. Thank you if you use our links, we really appreciate it!
In this review, I sum up using BT Whole Home Discs to strengthen my smart home Wi-Fi coverage.
I bought BT Whole Home Discs to solve two problems. The first being Wi-Fi dead spots in some areas of my home and the second of wanting a separate Wi-Fi network for my 50+ connected smart home devices.
BT claim the Whole Home Discs showcase intelligent Wi-Fi technology automatically connecting you to the fast and strong signal as you move from room to room (Wi-Fi roaming and band steering). BT recommends 3 Discs for flats & homes up to 3-4 bedrooms and 4 Discs for larger homes with 5+ bedrooms.
An important point is that you do not need a BT broadband contract for the Discs to work.
The 3 BT Whole Home Discs arrived quickly from Amazon. The branded box & inner packaging provided ample protection. 3x Mains power adapters and 1x Ethernet cable is included.
For a Mesh Wi-Fi invention, the BT Whole Home Disc is a nice-looking product. It has a premium vibe with metal legs for positioning. The white circular texture means it will blend into most places around your home.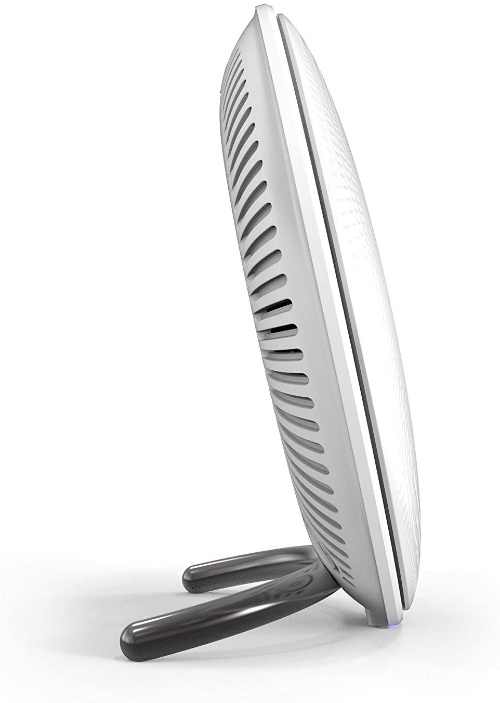 The length & width of the Whole Home Discs are both 16.5cm, height is 7.7cm and each weighs approx. 415g.
At the front, a handy LED will help you to determine the status of the Whole Home Disc. The LED colours range from purple (during setup or an update), orange (connected – poor signal), red (connected – no signal) and blue (connected – good signal).

One of your three Discs will need to connect to your Wi-Fi router using the Ethernet cable included. However, for your other two Discs, you can connect an Ethernet switch to your spare ports and then enjoy wired connections to your devices far away from your Wi-Fi router.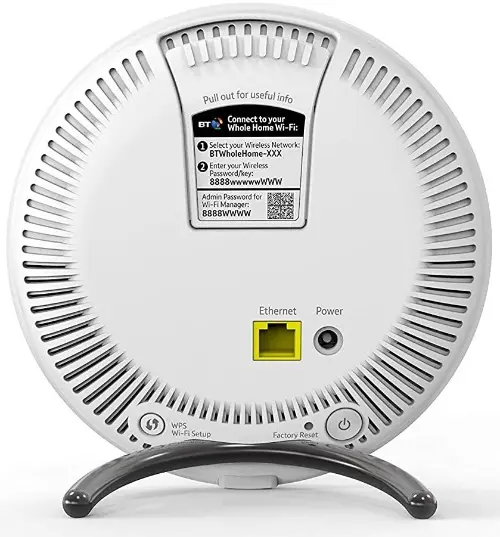 I do this from my second Disc in my office upstairs. My Wi-Fi router and first Disc are located downstairs. It works great!
The Whole Home Discs contain 4×4 antennas to support Dual-band (2.4 and 5GHz) Wi-Fi networks. Unfortunately, you cannot disable either of Disc's 2.4 or 5Ghz mesh networks.
The Whole Home Discs are easy to setup and the process takes a few minutes.
Before you connect the Disc's mains power adapter and Ethernet cable, download the Whole Home Wi-Fi app:
Next, connect the Whole Home Disc to your Wi-Fi router with the Ethernet cable provided.
When the light turns solid blue follow the app steps to connect to it, enter the admin password and set its location name.
The app will then step you through installing the other Discs.

To ensure your devices always connect to your new Whole Home Wi-Fi network, follow the app instructions to "forget your old network".
If you have many smart home devices connected to your router Wi-Fi network, you will likely want to keep your existing Wi-Fi network SSID & password for your Discs.
BT decided to enforce a password policy in their 1.02.04 build 10 firmware update consisting of; minimum of 8 characters & have 2 or more of the following: lower case, upper case, number & symbols.
Unfortunately, my router Wi-Fi network password did not contain a symbol, so I was unable to use the same password.
To prevent having to re-pair many devices to my Discs Wi-Fi network SSID, I changed my router to a 2.4Ghz network only for smart home tech and use the Discs for other devices.
The app has instructions to help test and find the best locations for your Discs. BT recommend trying to locate the Disc between one of your existing Discs and the area you want Wi-Fi coverage.
Follow the advice in the app's location checker to find the optimum positions.
Here are some examples of how you might position the Discs:

The Whole Home Wi-Fi app includes some useful features such as; who is online, pause the internet, schedule Wi-Fi access including bedtimes and create a guest network.
I have not made use of these clever features yet, but I can imagine how beneficial pausing the internet or scheduling access would be with children!
Once you have setup your Discs and you want to connect a new smart home device (requiring 2.4Ghz to pair), you will find yourself frustrated for not being able to separate or select either 2.4Ghz or 5Ghz networks within the Whole Home Wi-Fi app.
I have a solution, visit http://mybtdevice.home/ and login with your admin password (on the back of your Disc connected to your router via Ethernet).
Navigate to Setup and scroll down to 2.4GHz Device Setup Mode.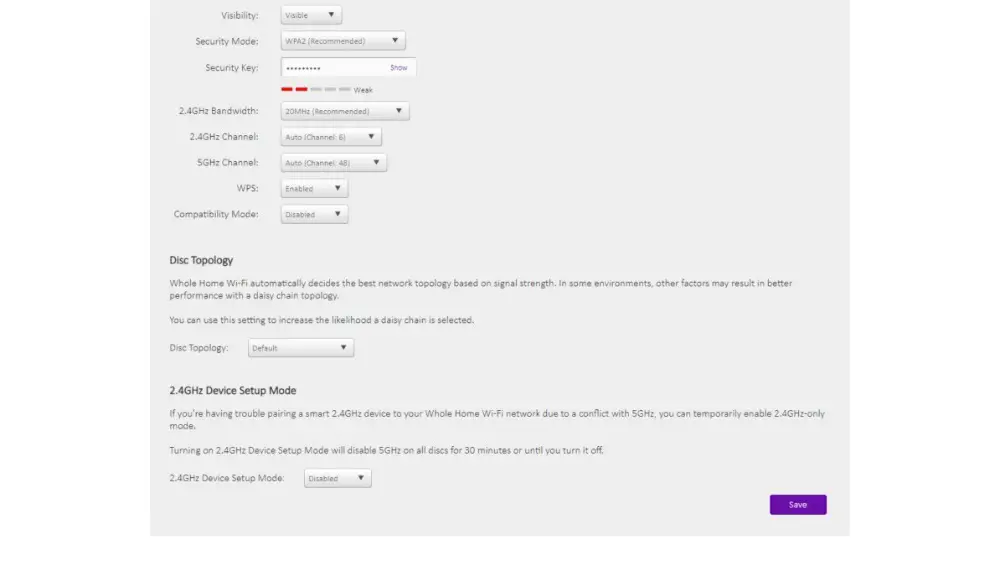 Turning on 2.4GHz Device Setup Mode will disable 5GHz on all Discs for 30 minutes or until you turn it off.
If you find the Disc's LED too bright, you can either lower the brightness or turn it off completely.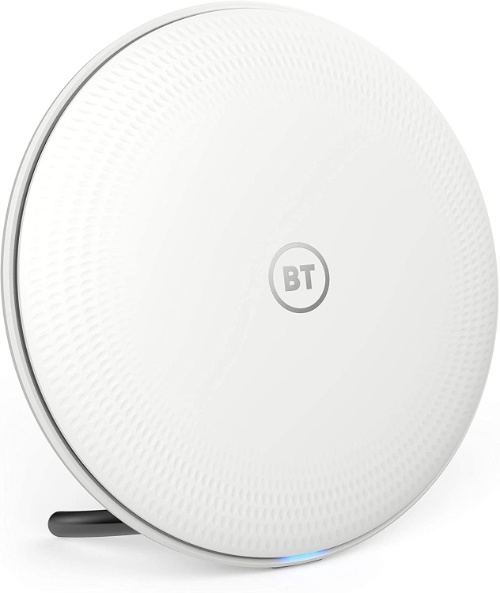 Head over to the Whole Home Wi-Fi app home screen: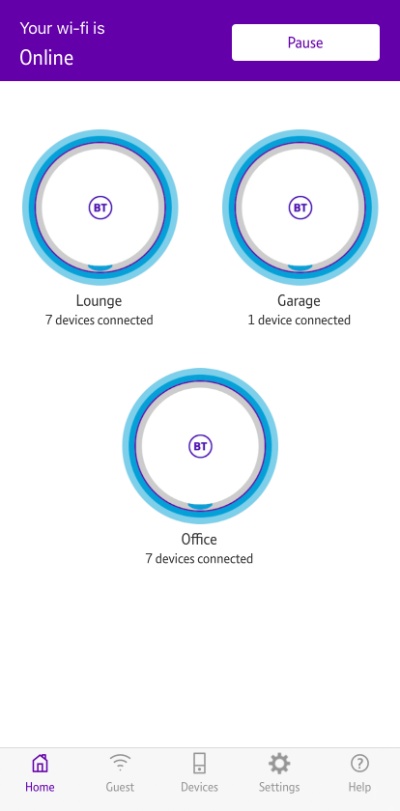 Tap on the Disc that you wish to change the LED settings: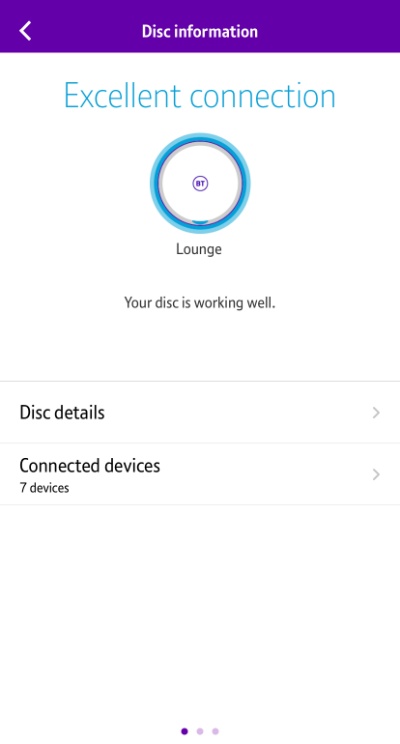 Tap Disc details: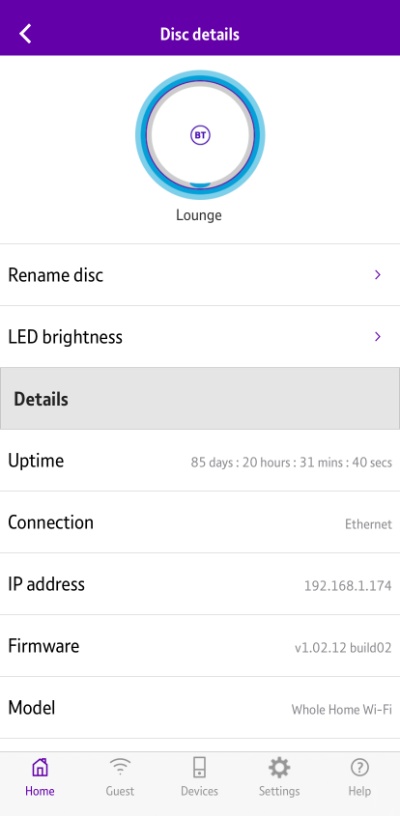 Tap LED brightness and then either Off, Medium or High: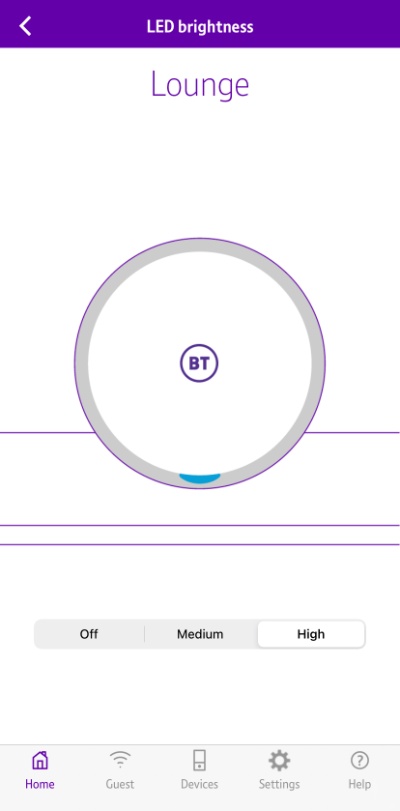 The BT Whole Home Discs are not cheap. However, they are proven to be a reliable product solving Wi-Fi range issues. The fact they are universal and can be used with any broadband supplier does help to justify the investment.
I am pleased to report my first problem of fixing Wi-Fi dead spots has been resolved using three Whole Home Discs in my home for the past 6+ months.
I was also able to isolate my smart home devices too but admittedly not on the Discs network. I appreciate this may not be a suitable solution for anyone experiencing weak Wi-Fi signals to their smart home devices.
Easy setup and excellent performance make the BT Whole Home Discs a perfect way to extend the coverage of your Wi-Fi networks at home.