We're an affiliate
We hope you love the products featured in our reviews! Just so you know, we may collect a share of sales or other compensation from the links on this page. Thank you if you use our links, we really appreciate it!
If you're looking to improve the energy efficiency of your home, you may want to consider a Hive thermostatic radiator valve (TRV). Hive TRVs allow you to adjust the temperature of each room individually, which can help you save energy by not heating unoccupied rooms.
In this review, we'll take a look at Hive's TRV and how it performs. We aim to help you decide if it's the right choice for managing temperatures throughout your home.
Hive TRV Initial Impressions
My first Hive TRV arrived quickly from Amazon. The Hive box & inner packaging provided sufficient protection. The box contained:
Radiator valve
2 x valve body adaptors (M30 and Danfoss RA)
Hex key
Adaptor guide
2 x AA batteries
User guide

Hive's TRV design is sleek & modern. The TRV colour is white and made from smooth plastic. A small LED display illuminates if you press the discrete button located underneath. The display provides useful information such as room temperature, battery life and signal strength.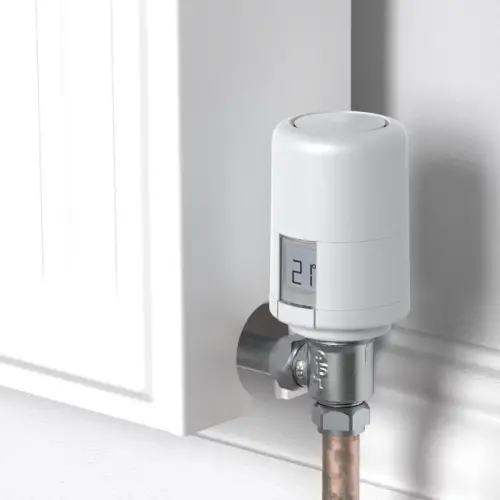 The width & depth of the Hive TRV are both 54.9 mm, the height is 93.9 mm (including RA adaptor) and it weighs approx. 134 g.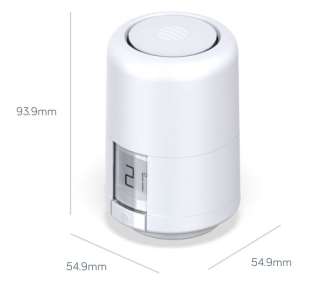 We'll explore some of the key features of Hive TRVs such as precise temperatures, saving energy and Heat on Demand. Let's cover why these valves may be a good choice for you.
A thermostatic radiator valve (TRV) controls the flow of hot water into an individual radiator. TRVs can be set so they only open at temperatures lower than what's desired in your home, or stay closed if they have already reached the target temperature.
Hive TRVs are a great way to manage heating or cooling your home. With Hive's app, your TRV can be scheduled to reach precise temperatures.
If you want to save energy, then it's important to use a combination of Hive's app and TRVs to schedule heating in each room, depending on your lifestyle. For example, I do not need to heat our spare bedroom or office to the same temperature nor at the same times as my lounge.
Our spare bedroom is rarely used but when we have visitors it is usually at weekends. I work from my home office during the week but not usually at weekends. By simply setting a low temperature for the spare bedroom on weekdays and office at weekends, I am saving a considerable amount of energy.
Another common example is heating your bedroom after waking up and getting out of bed. Instead, try setting up a schedule to keep your bedroom cool during the day and then warm before bed.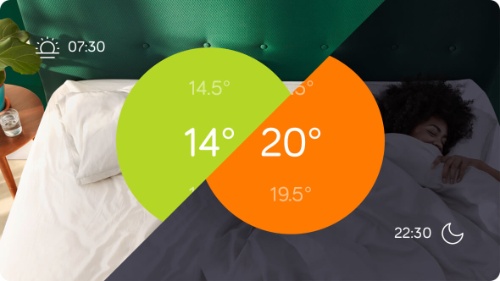 Top Tip You should keep doors closed when rooms are not in use so they don't affect your heating costs.
Hive TRVs allow you to set your thermostat low without sacrificing comfort. They work best with Hive Active Heating, which will automatically turn on the heating when needed so that room(s) or a space remains warm.
Hive on Demand automatically turns your heating on when you need it most, even if outside of normal schedules. The TRVs connect to your Hive thermostat and boost your heating for 30 minutes before turning it off again. If the radiator still needs more heat at the end of 30 minutes, it will trigger another boost.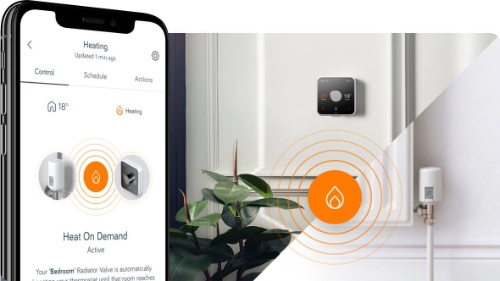 If you are like me, then the idea of automating heating individual rooms is appealing. The ability to control everything with just my phone or voice (with Alexa) is super convenient.
But I also know that there are a lot of practical considerations that need to be taken into account before adopting TRVs throughout your home. For example, how easy are they to install & calibrate? And is it worth upgrading all of my TRVs to Hive?
The Hive app will assist you through the installation process step-by-step, including identifying the correct adaptor. Each TRV will take around 15 minutes to install. If you have a home with thick walls, you may also need a Hive Signal Booster to help your Hive TRVs talk to your Hive Hub.
If you want to go ahead with installing your TRV then start by downloading the Hive app:
The first step is to remove your old radiator control. The majority of radiator controls can be removed by unscrewing the valve securing ring. If you're having trouble removing your old radiator control, just set it to its highest temperature setting (e.g. "5") and try again. Be careful not to unscrew the valve body itself.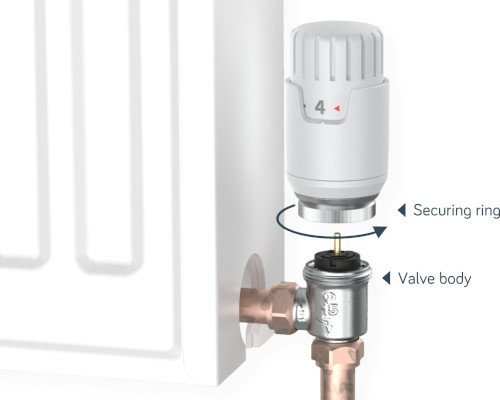 The second step is to insert the batteries. You will need to press down on the "tab" and slide off the TRV casing. Insert two AA batteries included. Slide the TRV casing back carefully, lining up the window with the display.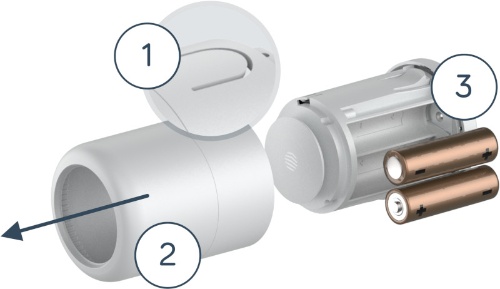 You will hear a click when it's in place and then see an "M" symbol visible on the display to indicate installation mode.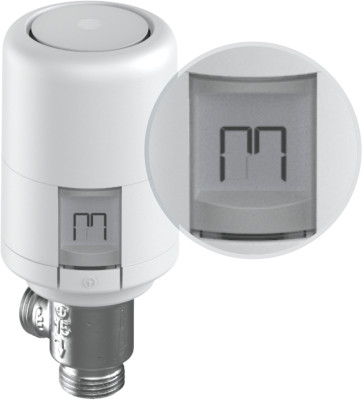 The last step is to screw the TRV onto your radiator and rotate clockwise until you feel a click. Rotate the casing back anti-clockwise until you can see the display.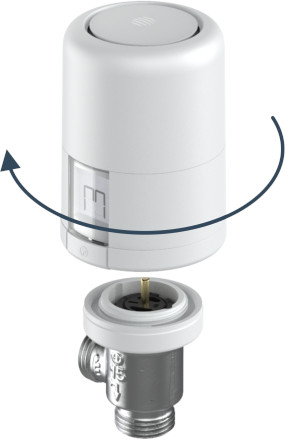 The Hive app will guide you through the final steps of installation i.e. creating a friendly name for your TRV.
After installing your Hive TRV, it will go through a calibration phase where it will learn the optimum opening point of the valve (when the hot water starts to flow). During the calibration process, the TRV opens the valve very slowly to detect the optimum opening point.
This means it can take up to 2 hours for your radiator to warm up. The app and radiator valve will both show the temperature you have selected, but the radiator may stay cold. This is standard and expected during the learning phase. Full calibration is completed within 7 days if weather conditions don't interfere too much (like during summer as your heating must be turned on).
From the Hive app dashboard, tap any installed Hive TRV followed by the settings icon
and then select Valve position to choose either a vertical or horizontal position. This helps your TRV to measure the room temperature correctly.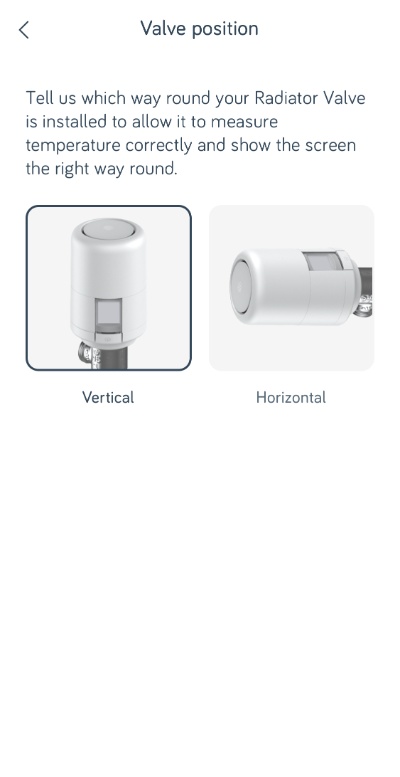 The Hive app gives you full control over your TRVs, including setting a temperature for each radiator, creating a schedule to only heat rooms when you need to and connecting your TRVs to your other Hive devices using Actions.
Manual mode turns on your heating until your Hive TRV reaches your target temperature. The radiator/room temperature will be maintained therefore keeping your heating on until you disable manual mode.
I rarely use this mode myself but I can see it being useful for managing a constant temperature in certain rooms e.g. baby's nursery.
Schedule mode gives you the flexibility of scheduling your Hive TRV to heat a radiator/room Monday to Sunday, at specific times and different temperatures.
This is the best mode to use if your objective is to save energy & money by not heating empty rooms. My home office radiator is a good example in terms of heating whilst I work on weekdays but not at weekends.
Home office Monday to Friday schedule: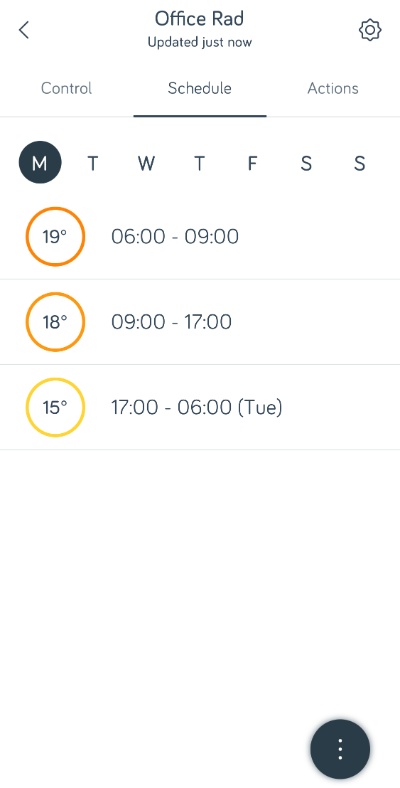 Home office Saturday & Sunday schedule: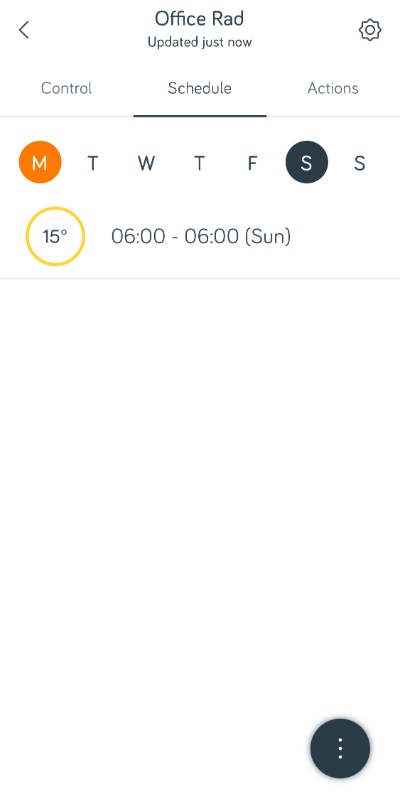 Boost mode turns on your heating for a fixed duration to reach & maintain the Hive TRVs target temperature. This feature is handy if you have guests that feel the cold more so than your family or if you intend to spend time in a particular room/space outside of your usual heating schedule.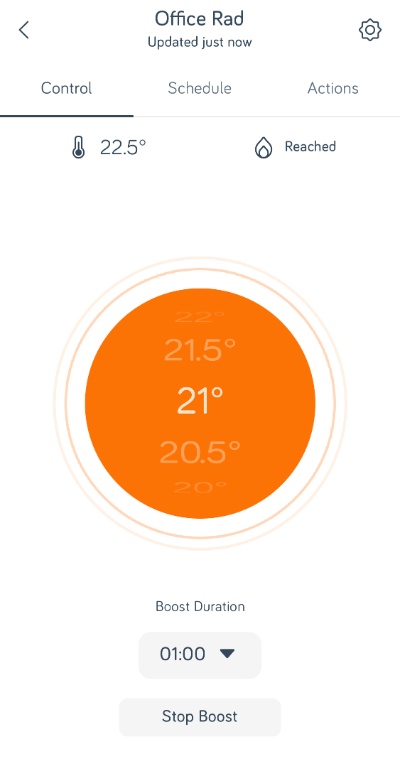 The advantage of using boost instead of manual mode is that your heating will turn off after the boost duration has ended. You do not need to worry about forgetting to switch back from manual to either schedule or off mode.
Off mode turns off your heating to the specified radiator fitted with a Hive TRV. Hive does provide a frost protection option which is set to 7°C by default. You can decrease or increase the frost protection temperature as desired.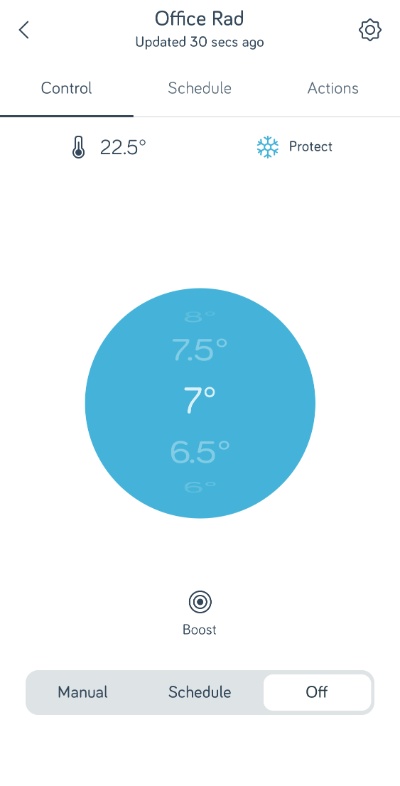 To prevent pipes from freezing in cold weather, Hive will automatically activate your heating if & when the frost protection temperature is reached. This feature provides peace of mind if you intend on taking a winter break away from home.
Actions enable users to automate their heating or other Hive devices based on Hive TRV events. The app provides suggestions or you can create your own.
After choosing your action, complete the when, while & then selections before naming & saving your action.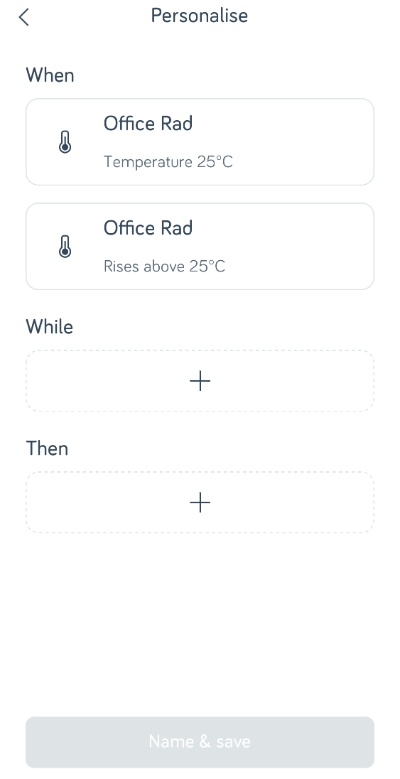 I replaced 5 of my TRVs with Hive TRVs in my home 18 months ago. I have 2 radiators downstairs and 1 radiator plus 2 towel rails upstairs that do not have TRVs installed. This means the radiators/towel rails in my home without Hive TRVs fitted, warm-up whenever the heating comes on.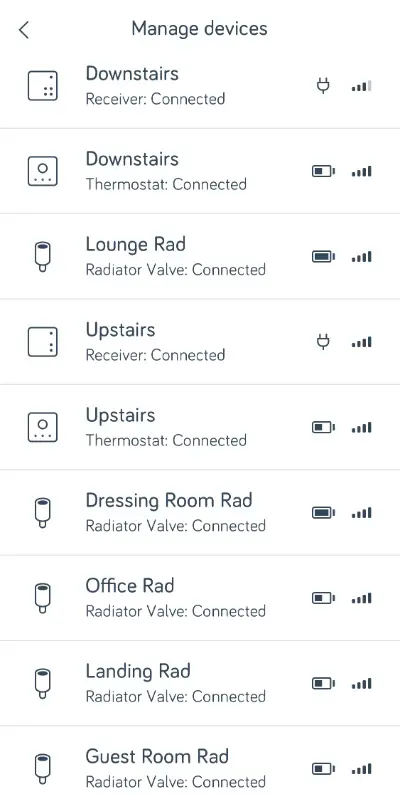 This isn't a problem for me, as both downstairs radiators are located close to my downstairs thermostat which according to Hive should be avoided.
We recommend that you don't fit Hive Radiator Valves to any radiators in the same room as any main thermostat. If the thermostat is set to a higher temperature than the valve, having both in the same room can cause your heating to be permanently on.
Overall, I have been impressed with the ability to control the heating in individual rooms to save energy.
During the winter, all my Hive TRVs accurately reach their target temperature within the scheduled time slots. During the summer, the TRV temperatures exceed target temperatures but this is expected with a south-facing home.
Hive does provide history graphs for thermostats but sadly, not for TRVs. If Hive provided historical TRV data it would help customers optimize their schedules & target temperatures.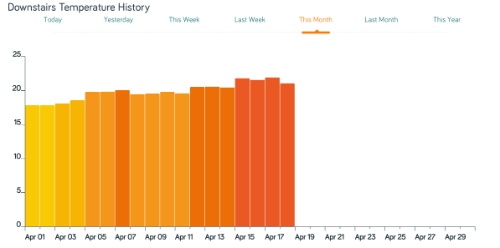 Hive Thermostat History Graph
Hive states their TRV battery life is 12 months, depending on how often you illuminate the LED display and if you're predominantly using the app to control. I have had to replace all my TRV batteries once over the past 18 months so this is in line with Hive's estimation.
You can check your Hive TRV's remaining battery life by pressing the button under the display or in the app by tapping on the named TRV in your Hive dashboard and then the settings icon
.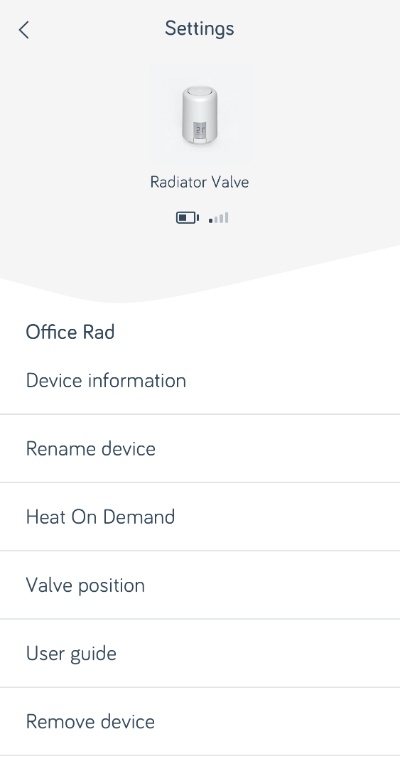 Hive TRVs are often discounted on Amazon and available at the lowest online price. If you have a medium to large house with 8 or more radiators, installing Hive TRVs can seem a significant investment, but you should factor in the future savings to weigh up the benefit.
In comparison to alternative smart TRVs such as Tado, Drayton & Bosch, Hive is priced competitively.
A Hive TRV can save you money because it allows you to control your house's temperature room-by-room. If you have a room that gets particularly hot, you can schedule a Hive TRV (fitted to a specific radiator) to turn on less. If you have a room that you do use very often, you can set the Hive TRV target temperature to be lower than rooms that are in regular use.
Hive TRVs certainly give users enhanced room temperature control as opposed to selecting a setting between 1 and 5 on a traditional TRV. Although Hive TRVs are more expensive than non-smart TRVs, they may be worth the investment. Not only do they save you money in energy costs, but they can also help you make your home more comfortable and eco-friendly.
If you are in the market for a thermostatic radiator valve, we highly recommend Hive. It is sleek, easy to use, and most importantly, it works well. We hope our review has been helpful and that you have found the information you were looking for. Leave us a comment below if you have any questions or experiences with Hive that you would like to share.