We're an affiliate
We hope you love the products featured in our reviews! Just so you know, we may collect a share of sales or other compensation from the links on this page. Thank you if you use our links, we really appreciate it!
In this review, I summarise my experience of using the Eufy RoboVac 30C almost daily for two years. In 2019, I was fed up using a dustpan and brush to remove crumbs from our kitchen floor. I searched for robotic vacuums that clean hard floors and self-charge.
Little did I know, we would later acquire a Labrador puppy that seems to shed an enormous amount of hair. For this reason alone, the RoboVac 30C has proven to be a worthwhile purchase.
The Eufy RoboVac 30C arrived swiftly from Amazon. The branded box & inner packaging provided plenty of protection. The box contained:
Eufy RoboVac 30C Vacuum
Remote with AAA Batteries
Charging Dock
Boundary Strips
Adhesive Tape
Brushroll Cleaning Tool
2x Spare Foam Filters
4x Spare Sides Brushes
Zip Ties
User Guide
The RoboVac 30C is generally made from hard plastic with a glossy top. On the top is a blue on/off button to start & stop cleaning. The button changes to slowly flashing orange when docked and charging. Solid orange means either low power or returning to the charging base. If RoboVac is flashing / solid red it means an error has occurred. Refer to the Troubleshooting > Error Tone section of the user manual for solutions.
You will also see a solid blue Wi-Fi LED if RoboVac is connected to your network. Slowly flashing blue means waiting for a network connection. Rapidly flashing blue means connecting with your Wi-Fi router.
The bottom has a matte finish and features two side brushes, a rolling brush, a dirt compartment and a red on/off power switch.
The 0.6L dirt compartment is made from transparent blue plastic so you can check how full it is before emptying. It is a little fiddly to slot in & out of the RoboVac, you just need to align the sides beforehand.
Overall, the RoboVac 30C has a premium feel with useful status LEDs and superb build quality.
The length & width of the RoboVac 30C are both 32.5 cm, height is 7.25 cm and it weighs approx. 2.8 kg.
You can use the EufyHome app to name your RoboVac, control manually, set cleaning mode, create schedules, send RoboVac home (charging base), find RoboVac (if lost), receive notifications and setup smart integrations such as Amazon Alexa or Google Assistant too.
After enabling the EufyHome smart skill you can use Alexa voice commands to control your RoboVac.
"Alexa, ask RoboVac to start cleaning"
"Alexa, ask RoboVac to stop cleaning"
"Alexa, ask RoboVac to go home"
You can also incorporate RoboVac within Alexa routines. The options are power, charge, find or pause.
The RoboVac 30C is supplied with 4 meters of boundary strips. You can place the strips wherever you want to stop RoboVac from cleaning certain zones within your home.
I had a high pile rug that RoboVac would occasionally get stuck on, so I placed the strips along the border underneath the rug to prevent RoboVac from reaching this part of my lounge.
The RoboVac 30C offers three different cleaning modes:
Standard suction for hardwood floors
BoostIQ suction automatically increases (within 1.5 seconds) if it detects hard-to-clean areas
Max suction (1500pa) for medium-pile carpets
Sign up to receive notifications & offers available only to our subscribers
The RoboVac 30C is easy to assemble. You do not need any tools to fit the two side brushes into place.
Download the EufyHome app on your iOS or Android device.
After installing the app, you will need to create a user account.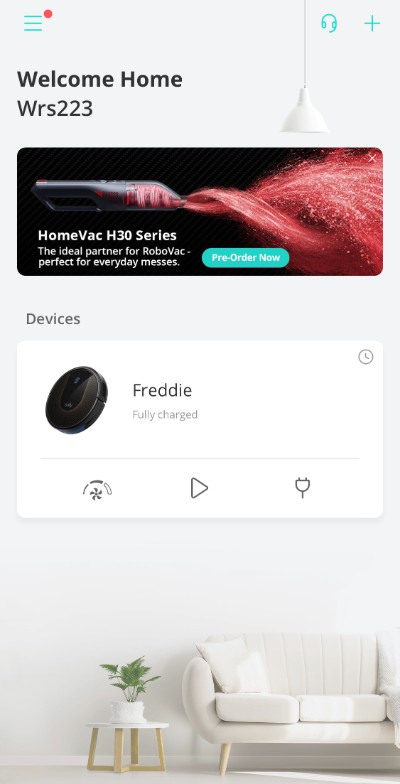 Tap the + icon in the top right corner to add RoboVac to your EufyHome account.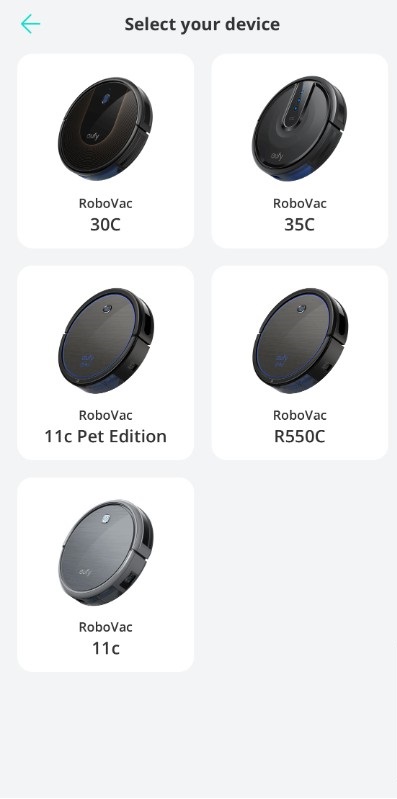 Follow the instructions in the app to set up the Wi-Fi connection.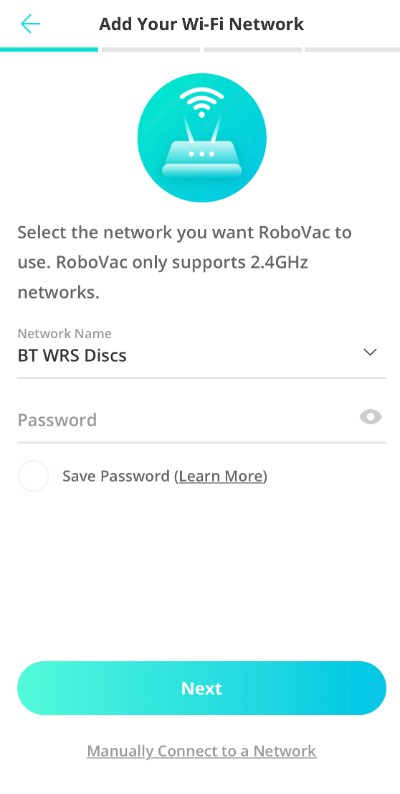 Top Tip check your network is set to 2.4Ghz only.
Once setup, you can control your RoboVac manually by tapping the play icon and arrows.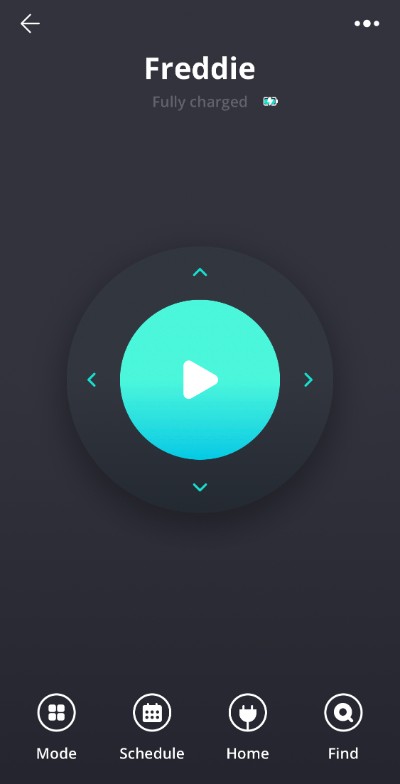 You can select various modes. The options are Auto clean, Quick clean (30 minutes), Spot clean (2 minutes) or Edge clean (20 minutes).
You can also create cleaning schedules. I opted for weekdays at 08:30.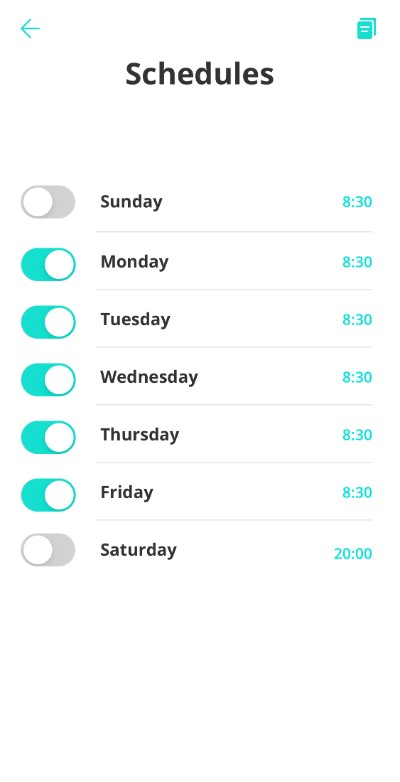 How loud is the Eufy 30C?
Eufy claims the RoboVac 30C advanced brushless motor significantly reduces vacuuming noise. Eufy also states RoboVac cleans to the equivalent volume of a microwave.
I personally feel the 30C standard suction mode is an acceptable noise level, but BoostIQ and Max modes are louder than an operating microwave.
The RoboVac 30C is notably quieter cleaning carpets compared to hard flooring.
How do I empty my Eufy 30C?
To empty the RoboVac 30C, press the dirt compartment release button to slide the compartment out. Open and empty the dirt into the bin.
You can optionally remove the filter by pulling the hooks on either side to take out. Clean the dirt compartment and filters with a cleaning brush.
Put the filters back in the dirt compartment and slide the compartment back you're your RoboVac.
As RoboVac 30C is supplied with a remote, you do not need to connect to WiFi and use the app.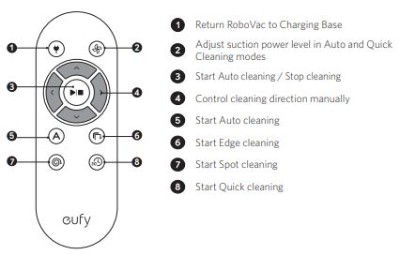 However, you won't be able to schedule cleans, receive notifications or voice control with Alexa. If you don't think you will make use of the app features, consider the lower cost Eufy RoboVac 30 instead.
How long does the Eufy 30C battery last?
The RoboVac 30C battery lasts from 50 to 100 minutes depending on cleaning mode.
Standard suction = 100 minutes
BoostIQ suction = 60 minutes
Max suction = 50 minutes
The RoboVac 30C lithium-ion battery takes ~240 minutes to re-charge.
How does Eufy 30C navigate around your house?
The RoboVac 30C uses "bounce navigation" and follows a random route when cleaning. The front bumpers help register objects in its path.
It has 9 built-in anti-collision infrared sensors to avoid knocking into obstacles. RoboVac also uses drop-sensing technology to avoid falling downstairs and off ledges.
Does Eufy 30C return to base?
The RoboVac 30C returns to base to charge after completing a clean, if the remote home button is pressed or if you say "Alexa, ask RoboVac to go home".
Does RoboVac replace a traditional vacuum cleaner?
No, RoboVac doesn't replace a traditional vacuum cleaner. You will still require a vacuum cleaner for reaching areas a RoboVac cannot clean e.g. stairs, furniture & skirting boards.
Eufy recommends cleaning various elements of your RoboVac weekly & monthly. Eufy advises replacing components e.g. filters, rolling brush, sides bushes and brush guard every 2 to 12 months but this will depend on usage.
The Eufy RoboVac 30C is priced very competitively compared to other Roomba or Dyson robot vacuum cleaners. The Eufy RoboVac range is regularly offered with a discount voucher or as a lighting deal on Amazon. I think RoboVac 30C represent great value for money.
You do need to factor in costs for spares & repairs as per Eufy's maintenance schedule. I have only had to change the side bushes during my ownership and luckily, Eufy has a full range of spare parts on Amazon.
In summary, I highly recommend the RoboVac 30C to take care of vacuuming your home, especially if you share it with a four-legged friend.
My only gripe is not being able to set the duration of scheduled cleans. I hope Eufy will add this feature to their app soon.