We're an affiliate
We hope you love the products featured in our reviews! Just so you know, we may collect a share of sales or other compensation from the links on this page. Thank you if you use our links, we really appreciate it!
In this review, I cover Arlo Skins to protect and disguise cameras. Arlo camera systems are costly investments and whilst they are designed for outdoor use, the bright white enclosure can get very dirty. Whether you are replacing the batteries in your Arlo HD cameras or attaching the charging cable to later Arlo Pro, Pro 2, Pro 3 or Ultra cameras, you will notice how filthy your cameras get after bad weather.
White Arlo cameras do not exactly blend homogeneously with most styles of homes. Unfortunately, this can lead to your cameras being easily spotted and targeted by an opportunist thief.
All the Arlo camera skins ordered for this review arrived quickly from Amazon. The branded box contains the skins in plastic bags and compartments separated by colour.
The Wasserstein Arlo Ultra range includes a skin for your magnetic mount which is a great idea.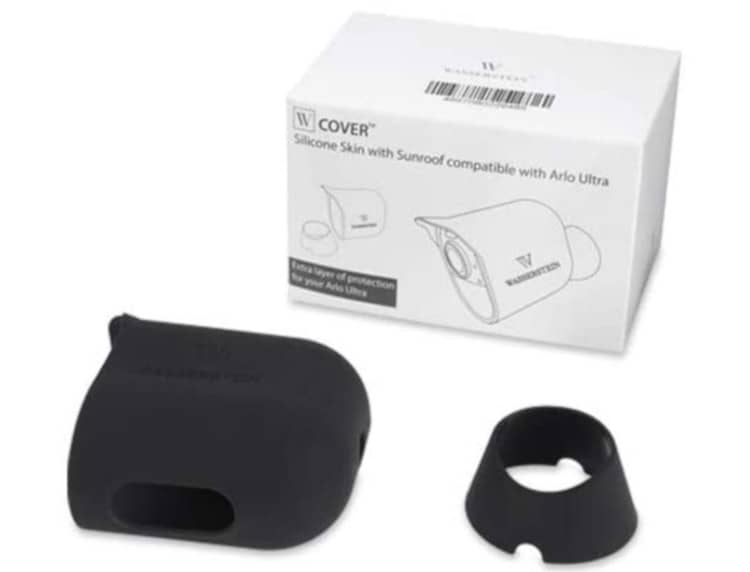 The Arlo official skins include a free window decal.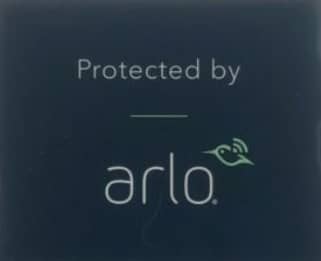 Arlo skins are all made from silicone material. The designs slightly differ by manufacturer. The main differences are a weather visor at the top or flared shade around the front of the skins.
Interestingly some of the Arlo official skins do not feature either a weather visor or shade.
Your naked Arlo cameras are exposed to seasonal weather ranging from thunderstorms & tornadoes to blizzards. Arlo cameras skins offer additional protection from the elements thereby improving the longevity of your cameras.
Wasserstein skins are designed to be UV and water-resistant. The weather visor & shade prevents droplets from landing on the lens distorting your camera's field of view. Instead, rain and snow will slip down the sides of the protective skin.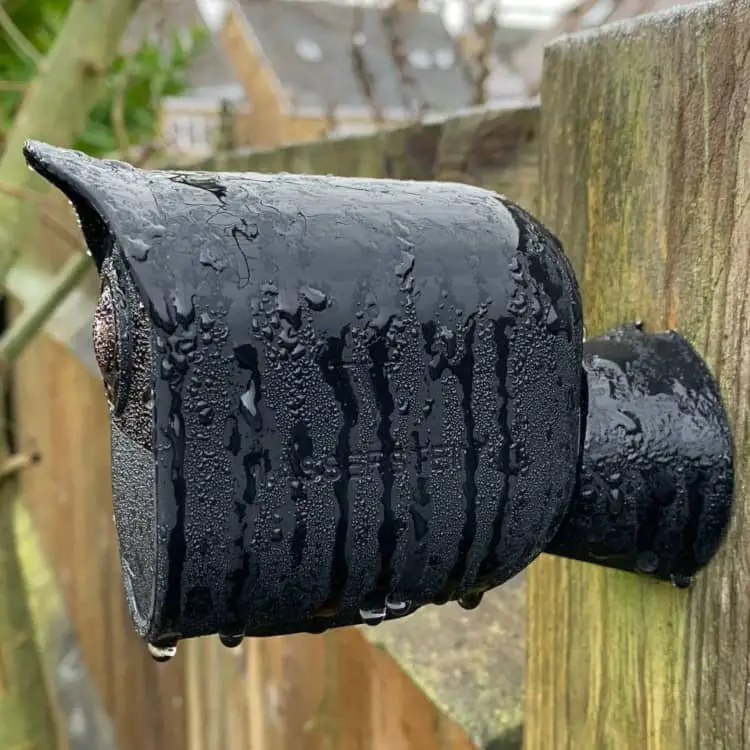 My Arlo Ultra camera on a frosty December morning
In the summer, without skins, I experienced direct sunlight causing a glare which resulted in hazy video recordings. The skins extended visor functions as a shield from dazzling sunlight and reduce glare plus flare spots in video recordings.
If your Arlo cameras are in foliage areas, you should consider the best outdoor disguise; camouflage or ghillie skins. You can make your cameras virtually invisible within greenery and shrubbery.
Unlike the silicone skins, the ghillie skin is made of strong synthetic fibres.
In addition to Camouflage & Green, Arlo Skins are available in 5 colours; Black, Brown, Grey, Beige or Blue. Your Arlo camera can now blend in more easily with any home or environment – fashionable or rugged.
Arlo skins have a convenient slip-on, slip-off design. You simply place your Arlo HD or Pro camera through the bottom cut-out of the skin and guide it with your fingers to tightly surround the camera's exterior.
If you have the later Arlo Pro 2, Pro 3 or Ultra cameras, you need to place the camera through the back cut-out of the skin.
All Arlo Skins include cut-outs for your existing magnetic or screw-in mounts to attach to your cameras.
Wasserstein has released a skin and flexible twist mount combo which means you can hang or wrap your cameras on trees, fences, outdoor lighting etc. Anywhere you like.
Arlo Skins feature cut-outs so that your battery compartment or charging port can be easily accessed. You do not need to remove your skin to replace batteries or re-charge your camera.
Arlo skins also have cut-outs to avoid covering your camera's in-built microphone & speaker.
Arlo has launched camera housing for Pro 3 & Ultra cameras. They are plastic rather than silicone and are available in black, white or "mossy oak" colours.
I feel skins are an Arlo camera accessory must-have. For a minimal cost, you can effortlessly protect and disguise your cameras. On the other hand, you may wish to just customize the look of your cameras indoors or outdoors by changing the skins to match with the colour of your wall, ceilings, front door, garden or garage.
Why not check out my other Arlo related articles: