We're an affiliate
We hope you love the products featured in our guides! Just so you know, we may collect a share of sales or other compensation from the links on this page. Thank you if you use our links, we really appreciate it!
Is your Arlo camera battery life reducing too quickly? Do you put off getting the ladder out to fit Arlo camera battery replacements because your cameras are located in awkward locations and as a result experience days of not being able to record videos until you insert new batteries? Are you fed up having to spend £15/$20 monthly to keep stocked up on replacement CR123A batteries?
Well, I feel your pain. Don't get me wrong, I think Arlo's VMC3030 cameras are great and at the time of their release in 2014, they were the world's first wireless battery powered HD security camera. However, the VMC3030 camera battery usage has always bugged me.
Look familiar?
In this guide, I will provide the best hacks for handling the power management of your Arlo cameras. I also aim to answer the most common Arlo camera battery related questions.
How long does an Arlo camera battery last?
According to Arlo's datasheet, expected battery life is 4 to 6 months with recommended settings and typical usage.
I have been using Arlo cameras for 6 years and in my experience, CR123A batteries used in Arlo's VMC3030 camera last no more than 2-3 weeks based on best video in-app settings and recording a daily average of 25 minutes worth of video.
I suspect my (best) settings plus the amount of daily (50x 30 seconds) recordings are above Arlo's typical usage calculations and therefore your battery life is likely to vary as well.
Why do my Arlo camera batteries die so fast?
Arlo rapid battery drain is normally caused by:
Motion detection events and recording time
You should start by checking your library in the Arlo app to see if the amount of camera video recordings has increased. It could be that an insect has decided to make your Arlo camera their home, triggering the motion sensor, resulting in lots of back to back video recordings. I have experienced spiders wrapping their webs around my Arlo cameras causing the motion sensor to activate and continuously record videos leading to battery drain.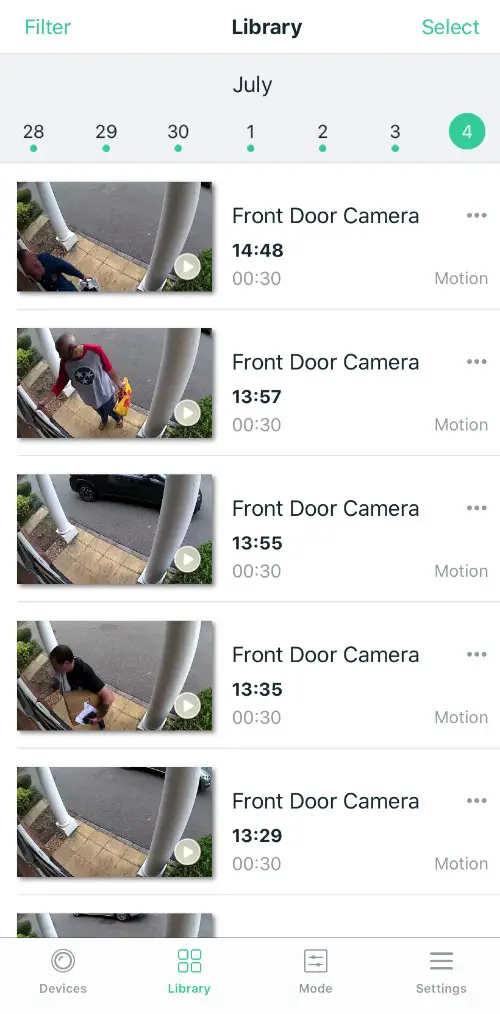 Camera or base station position
Next up, check if after replacing the batteries, you placed the camera exactly where it was before you encountered battery life issues. Additionally, is the camera position relative to the base station and your Wi-Fi router the same? If your router is between your Arlo base station and the camera, this can cause accelerated battery drain. Arlo recommends for your camera to be at least 10 ft (3 m) away from your Wi-Fi router and at least 6.5 ft (2 m) away from other Arlo devices.
Poor camera signal quality
Head over to the Arlo app home screen and check to see how many bars of Wi-Fi signal is displayed for your camera? If the signal is low, the camera will use more battery juice to send video recordings to Arlo's cloud.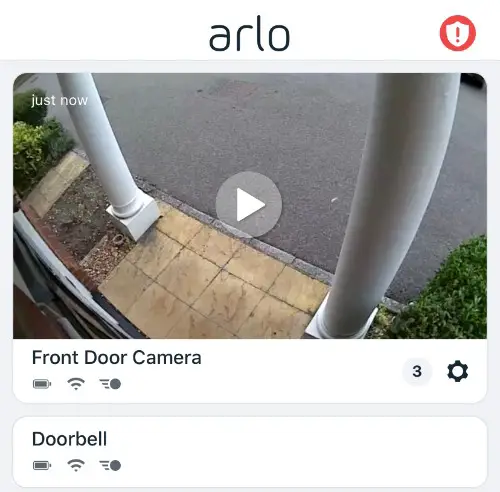 Lastly, check if your Arlo base station offline? If it is or your camera cannot connect to your base station, your camera will constantly re-attempt to find and connect to the base station, wasting battery life in the process.
How do you make Arlo batteries last longer?
There are several different ways to make Arlo batteries last longer:
Top Hack #1: Use rechargeable batteries
As I mentioned at the beginning of this article, one of my biggest gripes with Arlo's VMC3030 camera is spending £15/$20 monthly on replacement CR123A batteries. From reading Arlo's documentation, my understanding was only non-rechargeable batteries are supported.
From researching & testing rechargeable CR123A batteries, I was delighted to discover that they do indeed work with my Arlo cameras. I must also add since switching I have not noticed any impact on camera performance.
Best Arlo Camera Battery Charger
I evaluated a couple of different Arlo camera battery charger + rechargeable CR123A batteries combos available from Amazon. I recommend the Keenstone offering which includes; either 8x or 12x CR123A rechargeable batteries, circular battery charger, power lead & adapter and 2x bonus Arlo "Skins" which both protect & disguise your cameras.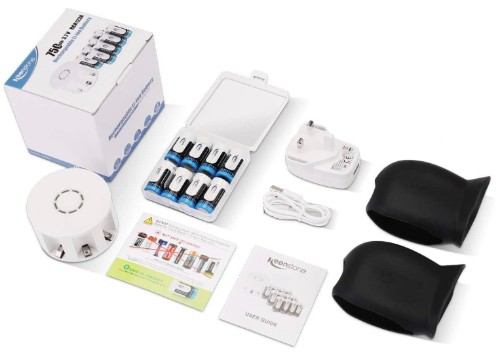 The Keenstone battery charger has built-in protection to prevent batteries from over-voltage, over-current and overheating whilst charging. I like the fact you can purchase additional rechargeable CR123A batteries to ensure you always have a fully charged set for whenever your fitted batteries need replacing.
Keenstone state each of their rechargeable batteries can be recharged for up to 500 cycles which provides considerable annual cost savings compared to purchasing non-rechargeable batteries.
How to open Arlo camera battery compartment?
To open your Arlo camera battery compartment, slide and hold the latch on the bottom of the camera. Slide the battery door back and lift it to open the battery compartment.
How do I change the battery in my Arlo camera?
To change the batteries in your Arlo camera, after opening the battery compartment, insert two CR123A batteries at the back of the camera. Pay careful attention to the + positive & – negative orientation of the batteries when you insert them.
Insert a further two CR123A batteries at the front of the camera near the compartment hinge. Again, pay special attention to the + positive & – negative orientation of the batteries when you insert them. Close the battery door.
Use the optimized or best battery life power setting
A quick way to preserve your Arlo camera battery life is to change your camera's power management settings.
If you navigate to the Arlo app home screen, tap Devices and then tap the

cog icon next to the name of your camera and you will be presented with your camera settings: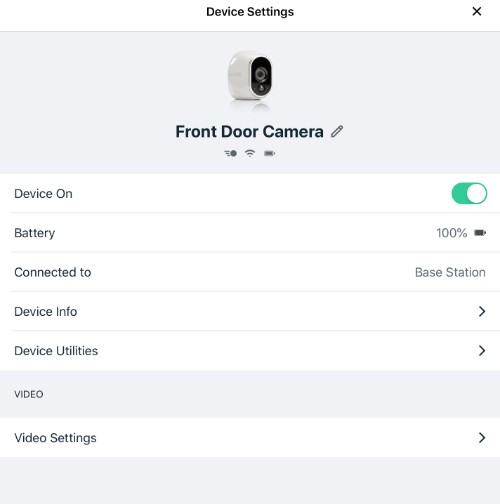 Tap Video Settings and scroll down to tap Power Management:
At this point, you can decide to select either Optimized (Balanced video quality and battery life) or Best Battery Life (May reduce video quality):
Configure your cameras to record shorter videos
Another way to prolong your Arlo camera battery life is to reduce the length of video recordings when motion is detected. The minimum video recording duration is 10 seconds.
If you navigate to the Arlo app home screen, tap Mode located at the bottom of your screen and you will be presented with your base station settings: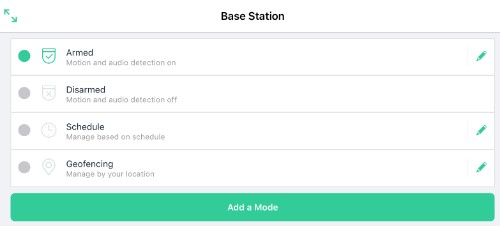 Tap the Armed pencil icon followed by the pencil icon next to your camera: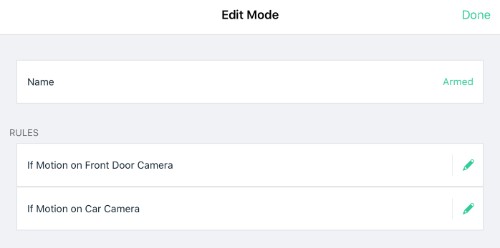 Tap the camera pencil icon within the 'Then do the following' section and next to 'Record video':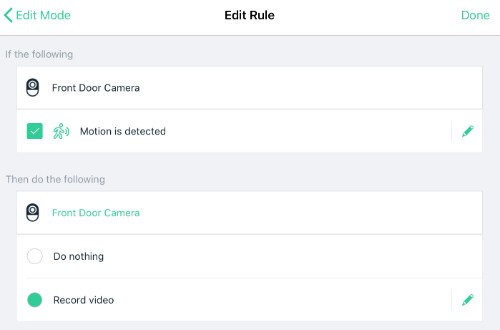 Use the slider icon to define the length of your video recordings (seconds):

Re-position your Arlo camera
Arlo recommends a minimum distance of 10 ft (3 m) and up to a maximum distance of 300 ft (90 m) from your base station. However, Arlo's quoted ranges are based on line of sight which means each wall, ceiling or other obstruction between the camera & base station will impact the camera Wi-Fi signal strength.
The harder your camera needs to work to connect to the base station, the quicker your camera battery will get depleted. Re-position your Arlo camera closer to your base station so it has the best possible signal strength, ideally 4 Wi-Fi bars.
Do not place your Arlo system near multiple WiFi routers
This can be difficult to avoid if you are living in an apartment or built-up area but if possible, you should try to keep your Arlo camera & base station as far away as possible from other Wi-Fi routers. This step will help minimise interference which greatly affects your camera's signal strength and your camera's battery life.
Download latest Arlo firmware
It is worth keeping your Arlo camera's firmware up to date. Arlo's firmware updates are released automatically to cameras connected to the base station and Wi-Fi. The automatic updates happen between 3 & 5 AM to limit camera downtime.
You can manually check and update your camera's firmware anytime. To do this, navigate to the Arlo app home screen, tap the

cog icon next to the name of your camera and you will see your camera settings: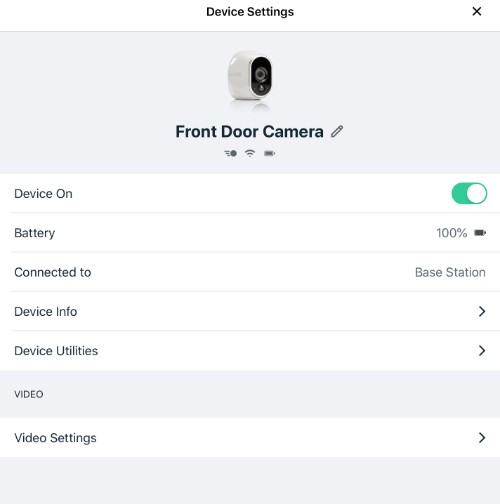 Tap Device info to view the current version of firmware installed:
Tap the Firmware > arrow. If a new firmware release is available, it will be shown here:
If you carried out all my tips and there is still no improvement, try removing your cameras from the base station within the Arlo app and then re-synchronise them.
Top Hack #2: Use a Power Adapter
I was under the impression only the newer Arlo cameras were able to be powered using a power or mains adapter.
I was wrong! If you are done altogether with buying and (or) charging replacement batteries, I have a tried and tested solution consisting of a power cable which connects to a "secret" charging port within your Arlo camera. No batteries are required.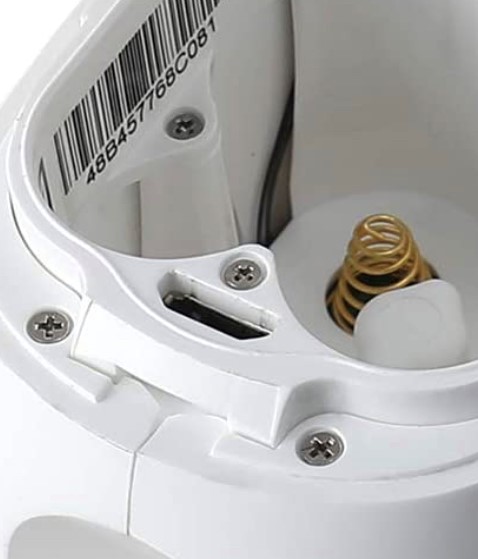 Simply open the battery compartment and remove the rubber grommet covering the internal charging port as shown in the images. Insert the power cable into the camera charging port, close the battery compartment and plug in the power cable to your mains socket or extension lead.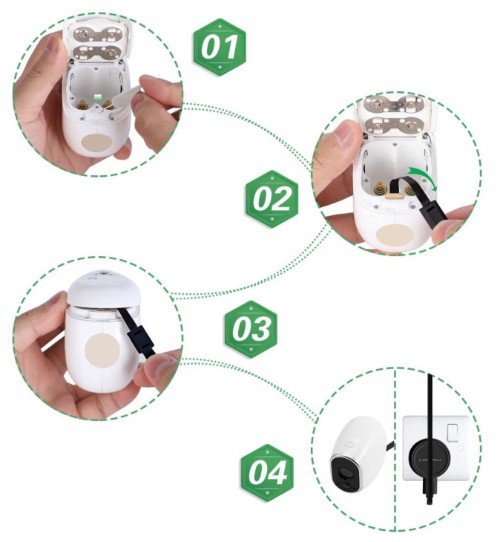 Best Arlo Camera Power Adapter
I have been using the LANMU power adapter to provide continuous power to my Arlo front door camera for over 2 years. I highly recommend this product for any Arlo camera which is likely to frequently detect motion and record videos.
The LANMU power adapter is available in black or white colours, claims to be suitable for outdoor use i.e. waterproof, features advanced USB charging technology and prevents overcharging, overheating, short circuit and over-current. The power cable's design is flat enabling you to feed through tight gaps such as windows, door frames etc. It is easy to install and super convenient.
How long is the Arlo outdoor power adapter?
Can you watch live feed on Arlo?
If you take advantage of the Arlo power adapter and have a reliable & constant power source, you may wish to watch live feeds from your Arlo cameras either on your smartphone or tablet using the Arlo app or log in to your Arlo account using your laptop or desktop and a web browser. Just tap or click the

play icon located in the centre of the camera preview.
If you would like to watch live feeds of your Arlo cameras on your TV, check out my recent article with step by step instructions for how to do so.
Which is better Arlo or Arlo pro?
I recently compared Arlo's complete camera range including Arlo vs Arlo Pro. Spoiler alert… Arlo Pro was the clear winner with lots of additional features & benefits. If you are considering an upgrade, why not read the highlighted differences in my full comparison.
Please feel free to drop a comment if you enjoyed reading this article today or if you have any questions. How is your Arlo VMC3030 camera battery life? Let me know if you are aware of any other useful Arlo camera hacks?