We're an affiliate
We hope you love the products featured in our guides! Just so you know, we may collect a share of sales or other compensation from the links on this page. Thank you if you use our links, we really appreciate it!
In this guide, I summarise the key differences between Arlo cameras within Arlo's current range. In 2014, Arlo was the first to release a wireless battery powered Wi-Fi security camera. I bought a few of the original Arlo cameras and they are still working some 6 years later which is rather impressive.
I am in the market to upgrade my cameras which led me to study the current Arlo product range to determine their latest features & benefits. The main limitations with my current camera setup are the battery life (4x CR123), video quality (720p) and Wi-Fi range as, at IoTDIY HQ, my furthest camera is located approx 40 m (through multiple walls) from the base station.
Whether you are researching Wi-Fi security camera options for the first time or considering an upgrade, I intend to provide all that you need to know about Arlo cameras.
How do Arlo Cameras compare?
Arlo has various cameras within their product range to suit several use cases and environments to position cameras around your home. Arlo's current camera range is categorised as follows:
Arlo Outdoor Cameras Compared
Arlo's outdoor camera range consists of 5 cameras; Arlo, Arlo Pro, Arlo Pro 2, Arlo Pro 3 and Arlo Ultra.
| | | | | | |
| --- | --- | --- | --- | --- | --- |
| | | | | | |
| | | | | | |
| | | | | | |
| | | | | | |
| | | | | | |
| | | | | | |
| | | | | | |
| | | | | | |
| | | | | | |
| | | | | | |
| | | | | | |
| | | | | | |
| | | | | | |
| | | | | | |
| | | | | | |
| | | | | | |
| | | | | | |
| | | | | | |
| | | | | | |
| | | | | | |
| | | | | | |
| | | | | | |
| | | | | | |
| | | | | | |
Arlo Pro was released in 2016, 2 years after the original Arlo cameras so you can expect an enhanced feature list which includes; 20° extra field of view, power adapter cable to continuously power or re-charge the Arlo Pro Lithium-ion battery, 2-way audio, siren support (100+ decibel siren built-in to the base station) and whilst Arlo provide all customers with a rolling 7 days of free cloud recordings, you have the option to connect a USB drive to the Arlo Pro base station to backup video recordings locally.
Unfortunately, both cameras offer the same 720p resolution. Arlo Pro is marginally bigger and heavier (+23 g) than the original Arlo camera.
As of Q1 2019, Arlo had shipped over 11.7 million Arlo Pro's registered to 2.85 million users, which generated an average of 88 million video streams daily.
Arlo Pro 2 was released in 2017, a year after Arlo Pro. The biggest upgrade is the resolution from 720p to 1080p. Other than the resolution I cannot identify any hardware differences between Arlo Pro 2 & Arlo Pro cameras.
I believe they are the same camera, except for the 1080p camera chip, as both cameras are the same size, weight and contain a 900MHz ARM Cortex A7 processor, 128MB Flash & 128MB RAM configuration.
Arlo Pro 2 does provide a couple of software improvements such as continuous video recordings (Arlo Pro is limited to 8 minutes of video after motion detection). Please note Arlo Pro 2 continuous recordings require a monthly subscription. Arlo Pro 2 can also record video in specific zones in addition to motion detection whereas Arlo Pro only supports the latter.
How can you tell Arlo Pro & Arlo Pro 2 cameras apart?
If you look very closely at the design of Arlo Pro it has a black front edge whereas Arlo Pro 2 has a white front edge.
Arlo Pro 3 was released in 2019, 2 years after Arlo Pro 2. Arlo Pro 3 has had a complete design overhaul compared to previous Arlo camera models including the Arlo Pro 2. Arlo 3 is slightly larger but noticeably heavier (+195 g). The weight should not matter given Arlo's smart "fix & forget" design and introduction of magnetic cable charging.
Other important new Arlo 3 features include; improved resolution of 2K/1440p, 30° extra field of view, colour night vision, integrated spotlight, 4x further zoom, noise & echo cancelling audio and smart siren (built-in to the camera) which can be triggered automatically based on an event.
Arlo Ultra was released in 2019 the same year as Arlo Pro 3. Arlo Ultra looks very similar to Arlo Pro 3 on paper i.e. same size & weight but Arlo Ultra has significantly advanced features which include; 4K/2160p resolution, 20° extra field of view, noise cancelling & wind reduction audio and whilst Arlo provide all customers with a rolling 7 days of free cloud recordings, you have the option to connect a microSD card to the Ultra SmartHub to backup video recordings locally.
I was surprised to discover all Arlo cameras offer the same fixing options; wall magnetic & screw mount or table/ceiling magnetic mounts and a Wi-Fi range of 300 ft / 91 m (line of sight), even the feature-packed but costly, Arlo Ultra.
If you are not bothered by 4K resolution, I pick the lower cost Arlo Pro 3 as the best suited camera for monitoring the outside of your smart home.
Arlo Indoor Cameras Compared
Arlo's indoor camera range consists of 2 cameras; Arlo Q & Arlo Q Plus. You can also use Arlo Pro, Arlo Pro 2, Arlo Pro 3 and Arlo Ultra cameras for indoors too.
Arlo Q & Arlo Q Plus features include 1080p resolution, 130° field of view, 2 way audio, night vision, motion alerts and continuous cloud recording (CVR). Please note Arlo continuous recordings require a monthly subscription.
It is great to see that Arlo's Q range supports both 2.4GHz & 5GHz Wi-Fi frequencies. As it can be tricky for people to separate their 2.4GHz & 5GHz bands within their router settings to add IoT devices to their network.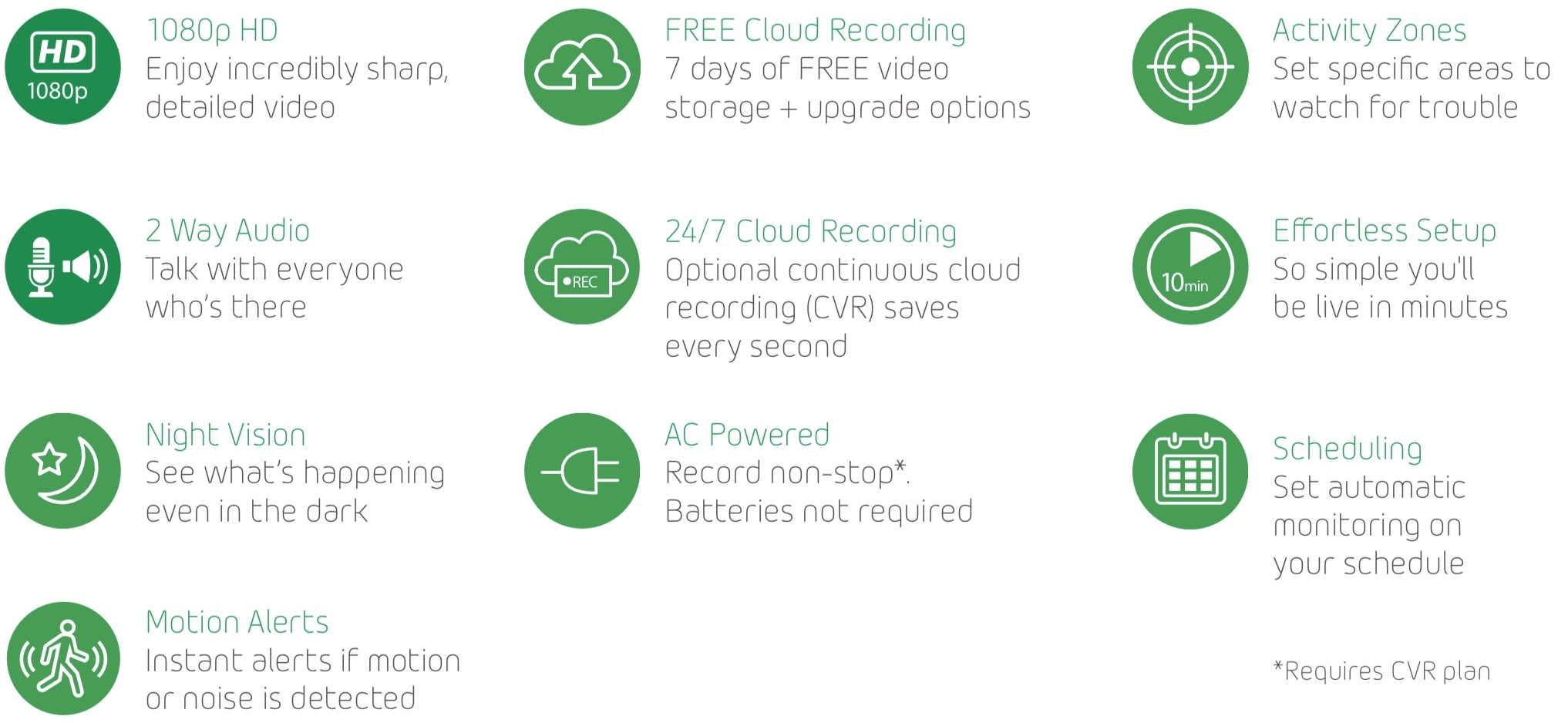 Arlo Q & Arlo Q Plus were both launched in 2016. They look identical and indeed share the same dimensions of 6.9 x 7.1 x 11.4 cm and weigh 168 g. Arlo Q Plus offers a couple of advantages: Power-over-Ethernet (PoE) support and a microSD card slot.
Arlo Q Plus PoE feature enables you to power & connect your Q Plus camera using a single network cable. The microSD card slot is for storing video recordings locally in case of internet interruptions.
The Arlo Q Plus PoE option is only useful if you are wanting to place your Arlo Q Plus near your router or modem. Otherwise, you will need to run a long Ethernet cable around your home.
On the other hand, the microSD card slot is beneficial if you suffer from an unreliable internet connection and would like the ability to backup video recordings locally.
I pick the newer Arlo Q Plus as the best choice of camera for monitoring the inside of your smart home.
Arlo's mobile camera is called Arlo Go and it was released in 2017. Unlike all the other Arlo camera offerings, Arlo Go does not rely on Wi-Fi and instead works wherever there is a 3G/4G LTE wireless connections. Some remote location ideas that you could place an Arlo Go to keep an eye on:
Holiday Homes, Hotels
Campervan, Motor Homes, RV, Trailer
Farms, Stables, Ranches
Rental or Airbnb Properties
Boats, Marinas
Garages, Carpark
Wildlife
Arlo Go's form factor is compact; 9 x 6.7 x 7.8 cm and fairly light; 335 g. Other than the 3G/4G LTE support, the list of features includes 720p resolution, 130° field of view, 8x zoom, 2 way audio, night vision, and built-in microSD slot to backup video recordings locally.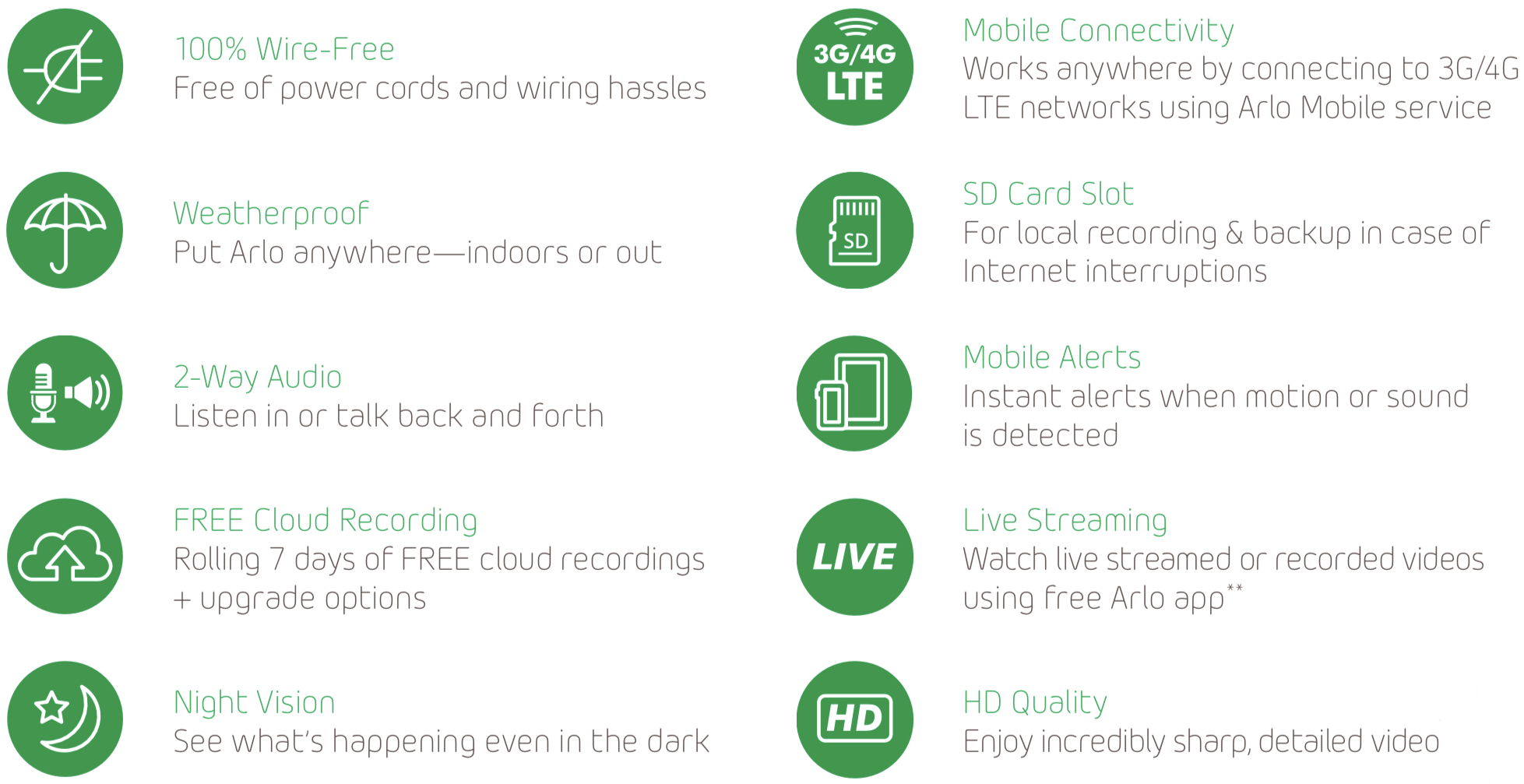 If you do not want to use Arlo Go's power cables option, as that kind of defeats the object of a wireless remote security camera, but are concerned about recharging the Arlo Go battery, you will be pleased to hear Arlo have designed a solar panel.
The Arlo Solar Panel harvests power from the sun and with only a few hours of direct sunlight, keeps your Arlo Go battery fully charged.
Arlo's Baby camera was released in 2017. This camera's sole purpose is to give you a good night sleep and peace-of-mind with live monitoring & smart alerts.
From a spec point of view, the Arlo Baby features 1080p resolution, 110° field of view, 8x zoom, 2 way audio, night vision, motion plus sound detection, temperature/humidity sensors and a rechargeable battery.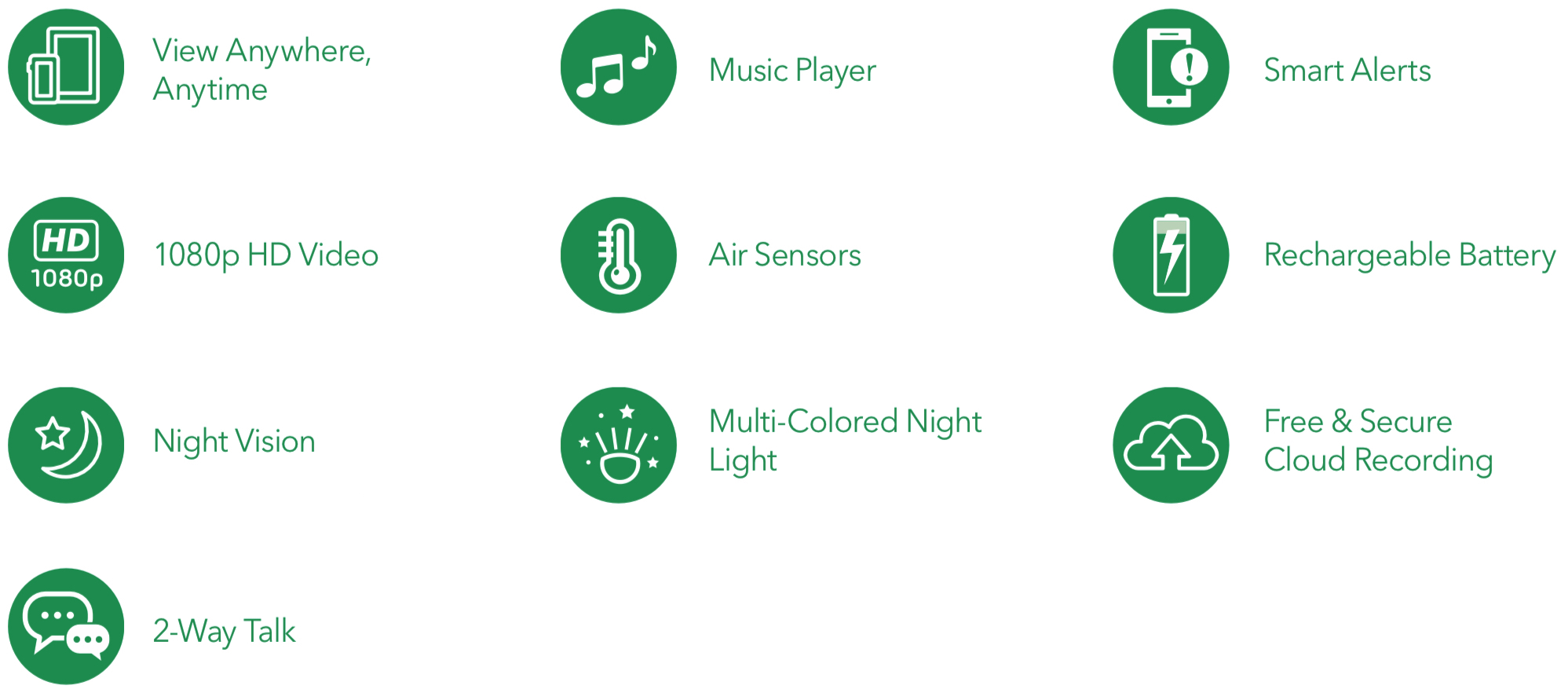 The Arlo Baby has a built-in music/lullaby player and you can choose from a selection of "character sets"; kitten, puppy or bunny accessories.
Please feel free to drop a comment if you enjoyed reading this article today or if you have any questions. Let me know which Arlo camera you have decided is most suitable for your needs or whether you feel upgrading to the latest models is worth it? Check out our post for viewing your Arlo camera's live feed on your TV.