We're an affiliate
We hope you love the products featured in our reviews! Just so you know, we may collect a share of sales or other compensation from the links on this page. Thank you if you use our links, we really appreciate it!
In this review, I summarise my experience of using the 1 by one smart scales almost daily for one year. After Christmas 2019, I decided I needed to lose weight. I searched for scales that will track my weight and discovered the low-cost 1 by one smart scales.
I exercised more, watched what I ate and began fitting old clothes again. Then Covid-19 arrived in 2020 and like most of us, I put all the weight back on and more during the various lockdowns.
I feel my weight "journey" over the past year or so is a good test for how the 1 by one smart scales perform and checking the data accuracy within the 1byone app.
The 1 by one smart scales, model number 700EU-0015, arrived swiftly from Amazon. The branded box & inner packaging provided adequate protection. The 3x AAA batteries included was a nice touch.
I am a fan of the white plastic minimalistic with glass top design. I feel 1 by one has stripped down the scales to its most essential elements without compromising on quality.
The anti-skid pads mean the scales remain firmly in place when positioned on any hard & flat flooring. The smooth rounded edges and slim profile enables the scales to be easily stored.
The length & width of the scales are both 28cm, height is just 2.5cm and it weighs approx. 1.45kg.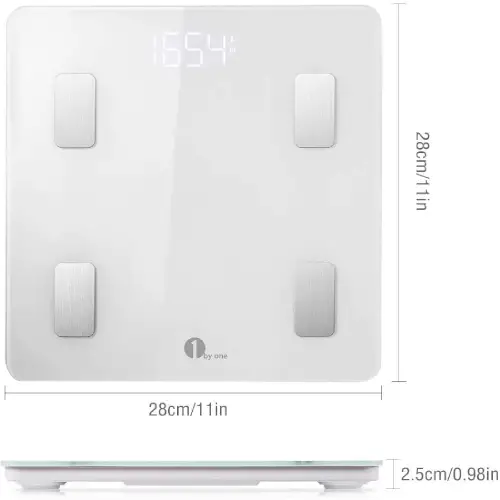 My need for purchasing smart scales was to automate tracking the history of my weight loss & gain. I had no idea the 1 by one smart scales are effectively a body analyser.
The 4 silver high precision sensors placed in each corner capture a total of 14 different types of body fat metrics in a matter of a few seconds.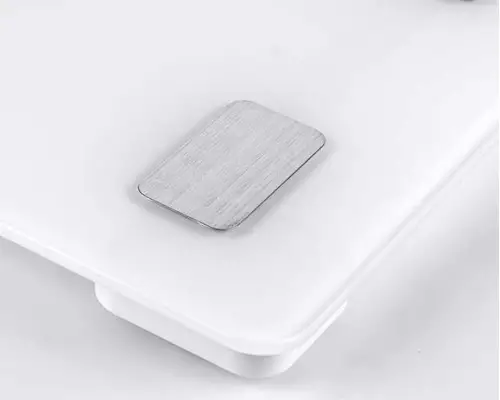 The LED display is hidden when the scales are turned off. This feature compliments the sleek design. When in use, the backlit display is bright and presents clear readings.
I was pleased to discover you can choose whether to measure your weight in either stones:pounds or kilograms. You simply select your preference using the unit button located on the back of the scales.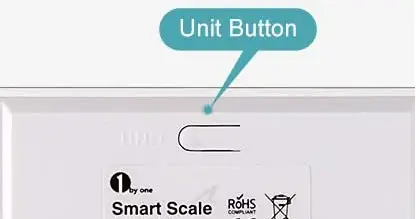 I am amazed by the several body metrics recorded from merely stepping on & off the scales. The full list of metrics are as follows:
Weight
Body Mass Index (BMI)
Body Fat
Protein
Bone Mass
Visceral Fat
Basal Metabolic Rate
(BMR)
Muscle Mass
Body Water
Skeletal Muscle Rate
Fat-Free Body Weight
Lean Body Mass
Body Type
Body Score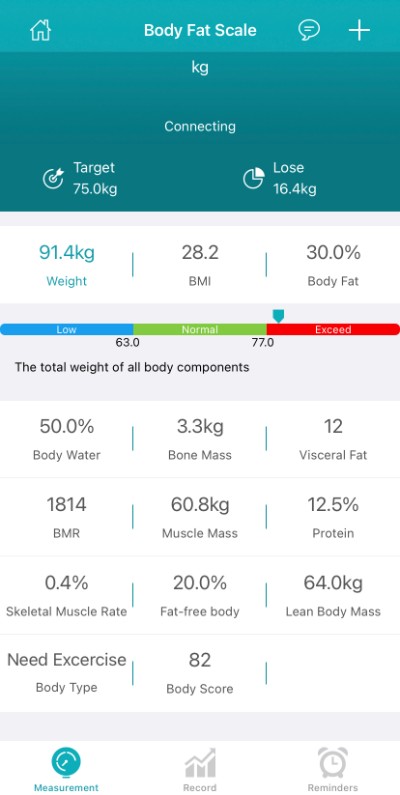 The scales utilise step-on technology. Even with the slightest touch the scales instantly turn on and attempt to connect to your smartphone via Bluetooth. After your weight has been recorded the scales turn off automatically.
If like me you do not often take your smartphone into the bathroom, especially not when you weigh yourself, then you will benefit from a clever feature! The scales will store your weight records until your smartphone reconnects and syncs with the 1byone Health App again.
I haven't determined the scales' built-in storage capacity. However, I have gone weeks using the scales on most mornings and not syncing my weight to my phone.
When I feel like syncing the data, I open the app on my phone (making sure Bluetooth is on), step on the scales as usual and the app prompts me whether to save previous recordings. To the best of my knowledge, I have not lost any records of my weight.
Nothing complicated here. After you put in the batteries you are good to go, the scales will measure your weight immediately.
To unleash all the other metrics, you need to download & install the 1byone Health App:
Next up, set your profile by entering your name, gender, birthday, height and choose your preferred weight measurement; kilograms, pounds, stones:pounds or stones.
The App has been stable and useful. Also, it is good to see that 1 by one developers maintaining and adding new features frequently.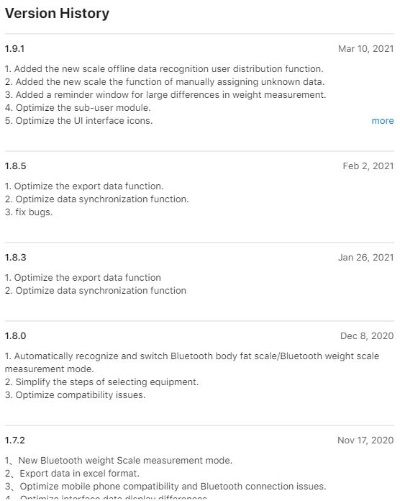 On the home screen the metrics are summarised in the form of a table and display the last information recorded. If you tap each of the various metrics a visual scale will appear and you can check your range.
For example, you get a BMI score and a slider icon showing if you are in the low, normal, high or exceed category.
Tap the Record icon and you will be presented with all your recent recordings including date, time, weight and BMI stored in the 1 by one cloud.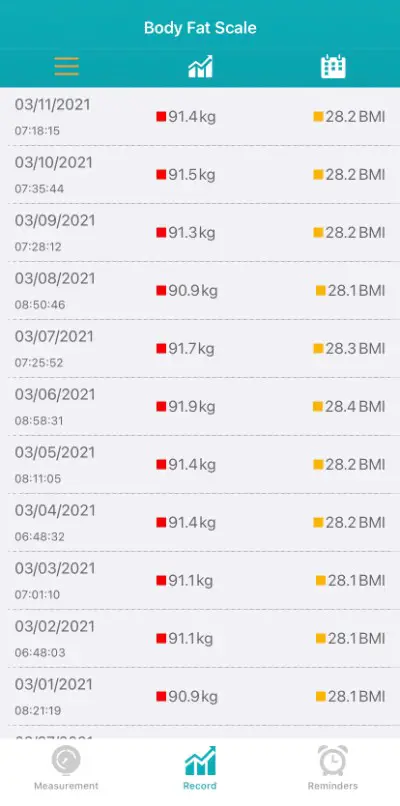 If you tap the graph icon, you can check your weight, BMI, body fat & muscle mass progress good or bad. You can zoom in to change the timeline or tap a month to drill down on finer details.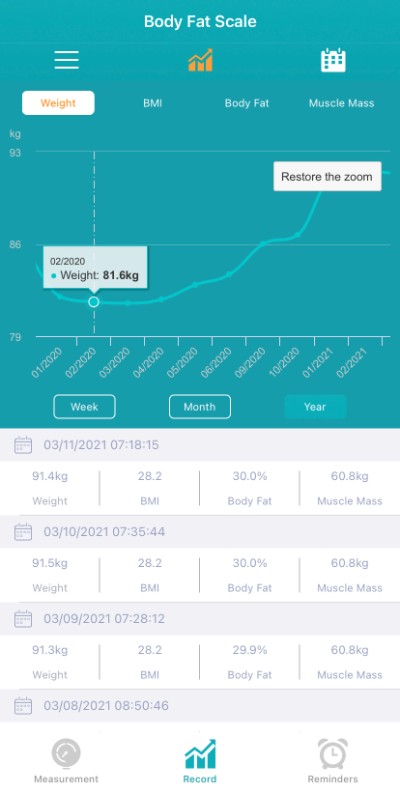 If you want to check your results on a specific date, tap the calendar icon and use the arrows to select the month and date.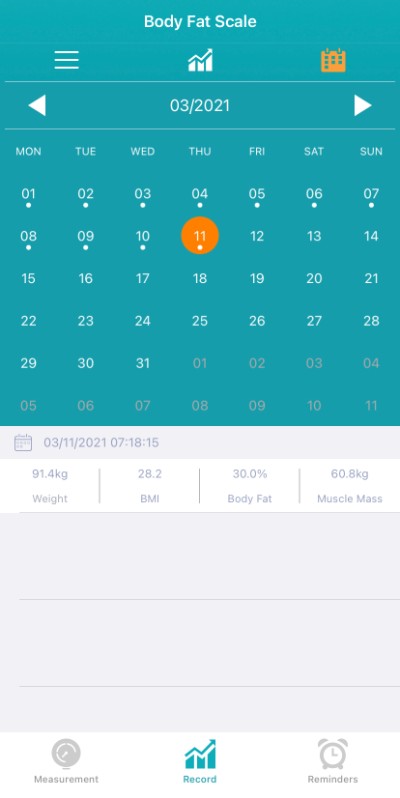 If you are on a business trip or holiday (without your scales), you can add a manual record by tapping the + icon in the top right corner.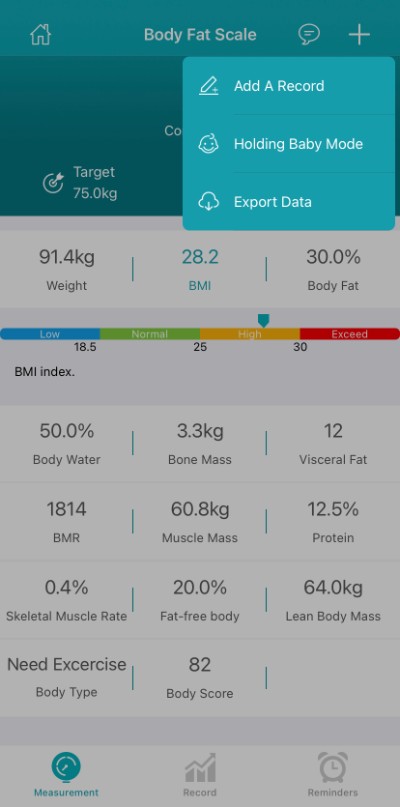 I have had to replace the 3x AAA batteries once over the past 12 months. This is based on almost daily use albeit only for a few seconds. I feel the battery life is acceptable.
The 1 by one smart scales is priced very competitively. They are regularly offered with a discount voucher or as a lighting deal on Amazon. I think the scales represent great value for money.
Thankfully 1 by one does not charge a monthly subscription to use their app nor to store your data in their cloud.
Overall, I am very satisfied with this purchase. I would prefer the scales to sync data via Wi-Fi instead of Bluetooth as that would remove the need for keeping your phone nearby.
Alternatively, if 1 by one were to launch an Apple Watch app that would overcome my only criticism. I highly recommend the 1 by one smart scales to manage your weight and view progress.