We're an affiliate
We hope you love the products featured in our guides! Just so you know, we may collect a share of sales or other compensation from the links on this page. Thank you if you use our links, we really appreciate it!
Are you looking for a universal remote to control your Roku? I've researched the top 5 Roku-compatible remotes that are perfect for any streaming setup.
Whether you're looking for an easy-to-use option or one with tons of features, we've got you covered.
What are Roku Universal Remotes?
Roku universal remotes are designed to work with Roku streaming devices. They typically have buttons for all the basic functions, like power, volume, and playback control.
Some models also include additional buttons for extras like fast-forwarding and rewinding. And some even come with shortcut buttons (for Netflix, Prime, Disney etc)  too.
What to consider when choosing Roku Universal Remotes?
There are a few things to keep in mind when choosing a Roku universal remote. First, think about what features you want. Do you need something basic, or do you want all the bells and whistles?
Next, consider compatibility. Make sure the remote you choose is compatible with your Roku streaming device. Finally, think about ease of use. Some models are very user-friendly, while others require a bit more setup.
How do Roku Universal Remotes compare?
I have studied the latest range of Roku universal remotes to determine the primary differences. As you will see from my comparison table, the differences are essentially the remote connectivity, remote control range and battery type.
Best Price
Best Choice
Product
RC280 Replacement Remote Applicable for TCL Roku TV 55UP120 32S4610R...
Remote Control Compatible for Hisense-TCL-Onn-Sharp-Roku TV Remote...
Replacement Remote Control for All Roku TV Brands...
BroadLink TV Universal Remote, Alexa Voice Control for Samsung TCL RoKu...
Logitech Harmony Companion - Discontinued by Manufacturer
Connectivity
Infrared, Radio Frequency
Wi-Fi, Bluetooth, Infrared
Top 5 Roku Universal Remotes
There are so many Roku remotes on the market, it can be hard to decide which one is right for you. If you're looking for a universal remote that will work with your Roku devices, check out our top 5 picks below.
ZdalaMit's RC280 Roku Remote
The ZdalaMit RC280 is a great choice for those looking for an easy-to-use Roku TV remote. It has a sleek design that fits comfortably in your hand and it has an ergonomic button layout.
This remote has all the basic functions you need, plus a few extras like fast-forward and rewind buttons. No programming or pairing needed. Just insert 2 AAA batteries and you're ready to go.
Please note this remote does not work with any Roku player, box or stick. It is only compatible with Roku TV models.
ZdalaMit RC280 Compatibility List
49S405, 55S405, 40S3800, 55US57, 50UP120, 28S3750, 32S3750, 40FS3750, 48FS3750, 55FS4610R, 55US5800, 65US5800, 55FS3750, 32S3700, 32S3800, 48FS3700, 55FS3700, 32S3850(A/B/P), 32S3850A, 32S3850B, 32S3850P, 40FS3850, 50FS3850, 28S305, 55FS3850, 40FS3800, 50FS3800, 40FS4610R, 48FS4610R, 43FP110, 49FP110, 55UP120, 32S4610R, 50FS3750, 32FS3700, 32FS4610R, 32S800, 32S850, 32S3850, 32S305, 40S305, 43S305, 49S305, 65S405, 43S405, 65S455, 50S455, 43S455, 55S455, 75S455, RC280.
EWO's Roku remote is best for those who want a user-friendly option. It features a lightweight design with soft plastic buttons.
The EWO Roku remote has a sleep timer (Moon) button which the ZdalaMit RC280 doesn't.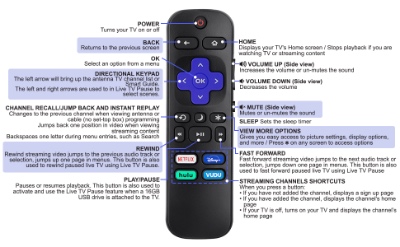 Please note this remote does not work with Roku streaming media players such as Roku Express, Express +, Roku Streaming Stick, Stick+, Roku Premiere, Premiere+, Roku Ultra, Roku Box 1, 2, 3, 4. It is compatible with all Roku TV models.
EWO's Roku Compatibility List
TCL Roku TV, Hisense Roku TV, ONN Roku TV, INSIGNIA Roku TV, SHARP Roku TV, Hitachi Roku TV, Philips Roku TV, SANYO Roku TV, Westinghouse Roku TV, Element Roku TV, JVC Roku TV, LG Roku TV, RCA Roku TV, Magnavox Roku TV.
The Alizen Roku remote is fantastic for those who want a reliable option. It has a simple design with multiple shortcut buttons including NETFLIX, AMAZON Prime Video, Roku channel, HULU, DISNEY+, sling, hulu, VUDU, YOUTUBE, ESPN+, Fan-NOW, Google Play Spotify.
Please note this remote does not work with any Roku sticks but is compatible with Roku box & TV models.
Alizen Roku Compatibility List
32S321, 32S301, 32S327, 65S421, 55S421, 50S421, 43S423, 50S423, 55S423, 65S423, 43S403, 32S325, 43S425, 49S425, 50S425, 55S425, 65S425, 50R7E, 32H4E1, 50R6E, 32H4030F, 40H4030F, 43H4030F, 55R6000E, 75R6E1, 65R6D, 43R7080E, 65R6E, 32H4F, 58R6E, 50R6E.
The Broadlink RM4 TV Mate is amazing for those who want a feature-rich option. This new, intelligent Broadlink universal remote is a sleek and easy way to control your Roku TV, box, stick from anywhere in the room with no need for batteries.
The easy way to learn IR codes is through the BroadLink App. After doing this, Broadlink stores the IR codes in the cloud to enable you to control all your electronic devices from your smart phone or Alexa/Google voice assistant.
You can learn any IR codes from your TV, Set Top Box, Projector, DVD Player, AV Receiver etc.
Give your remote an customized look & feel with the ability to integrate button presses (from difference devices) in one-click.
You can group together different devices for easy access and create scenes create scenes such as movie scene, sleep scene, morning scenes, away scene etc.
The voice-activated universal remote has been a long time coming, but it is finally here! With the help of your favorite digital assistants like Alexa or Google, you can turn on any Roku TV without having to touch anything. Just say "Alexa, Turn on TV".
After channel setup, you can use voice to change your favourite TV channels as well, "Alexa, Change the channel to ABC".
Broadlink RM4 TV Mate Roku Compatibility List
55UP120, 32S4610R, 50FS3750, 32FS3700, 32FS4610R, 32S800, 32S850, 32S3850, 48FS3700, 55FS3700, 65S405, 43S405, 49S405, 40S3800.
Logitech Harmony Companion
The Logitech Harmony Companion is the perfect choice for those who want a versatile universal remote. This remote can be used to control up to 8 devices including your Roku TV, box, stick and other set-top boxes, game consoles, and sound systems.
The Logitech Harmony Companion remote has a smart, ergonomic design and can be used as a traditional remote or as a mobile app.
With the Logitech Harmony Companion & Hub, you can control all of your home's appliances with just your voice! You'll be able to dim lights or turn your TV's volume up for movie night without even getting off the couch.
The Logitech Harmony Companion is the ultimate universal remote, with full featured functions including dedicated automation capabilities.
You can control all of your home's appliances such as Philips Hue lights or an Nest thermostat with just your voice or smart phone.
The included Harmony hub lets you control home entertainment devices even if hidden behind cabinet doors or walls, including game consoles.
Logitech Harmony Companion Roku Compatibility
All Roku devices are compatible with Logitech's hub-based Harmony products. Logitech have a dedicated support page covering adding Roku to your Harmony setup, controlling all Roku devices including the Roku streaming stick and creating unique Roku activities.
There you have it! The top 5 Roku universal remote controls that work. Each of these options has its own set of features that make it stand out from the rest.
So, whether you're looking for a low cost universal remote, with voice control or one that can be used to control your entire home, there's sure to be an option that's right for you.
I hope this guide of the top 5 Roku universal remote controls has helped you in your search for a replacement remote.
If you haven't already, be sure to leave a comment and let us know which one is your favorite! And if you have any questions about remotes or anything else related to streaming devices, we would be happy to help.